Insects, Spiders, Centipedes, Millipedes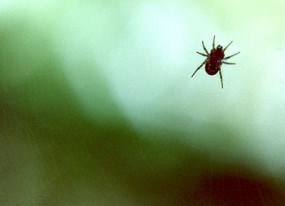 The insect world in the vicinity of the Gila Cliff Dwellings and the surrounding Gila Wilderness is rich and abundant. In fact, existing field guides are often inadequate to describe the all the species in the area. Insects include a variety of bees, wasps, hornets, beetles, ants, dragonflies, damselflies, cicadas, grasshoppers, crickets, butterflies, moths, mantids, worms, cochineal scales, katydids, lacewings, and flies.
One of the interesting creatures in the forest is the Giant Vinegerone. Visitors often mistake it for a giant scorpion. It is a whip scorpion, not a true scorpion. It has scorpion-like pincers in the front but a non-scorpion whiptail in the back, with no stinger. Common in this area, this creature hides in dark corners and in rarely seen. When approached too closely, it reacts by blasting a stream of vinegar-like acetic acid at the interloper, preferably at the interloper's eyes, where the liquid produces a burning sensation. The creature's name, appropriately enough, is the Giant Vinegarone.


Last updated: February 24, 2015