Geology/Hot Springs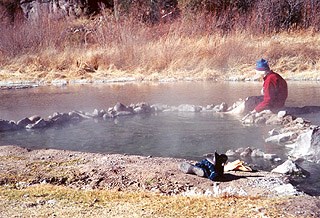 There are several hot springs in the National Forest and within hiking distance of the visitors center. Temperatures range from hot to very hot. Two of the most popular are Jordan Hot Springs and Lightfeather Hot Springs.

Light feather is about a twenty minute walk and two river crossings away from the Gila Visitors Center along Trail 157. It is situated in a steep canyon and flows from the base of a hill into the Middle Fork of the Gila River. The water pulses from the ground in about one minute increments and has a temperature of about 130 degrees. Geothermal activity may cause the rocks in the riverbed to be hot in some spots.

Jordan Hot Springs is six miles from the visitors center via Little Bear Canyon and eight miles via the Middle Fork route. The hot springs is about twenty feet in diameter, is about three feet deep, and has a water temperature of about 94 degrees Fahrenheit. This is a very popular hot spring and many people use it.

Be aware that an organism in the water may cause a form of meningitis, if the organism comes into contact with mucus membranes, and therefore it is not advisable to immerse one's head in the springs.


Last updated: January 5, 2021