Young adults help maintain and preserve the Gettysburg battlefield landscape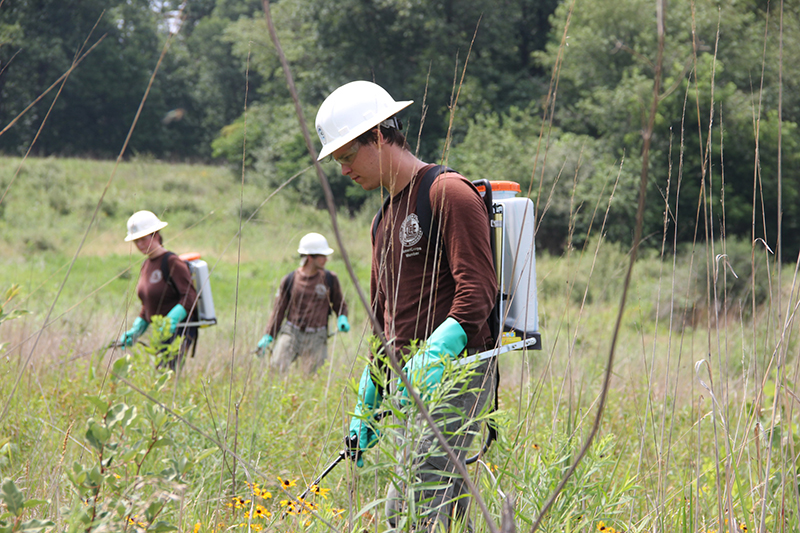 News Release Date:
July 13, 2017
Contact: Katie Lawhon, 717-338-4402
GETTYSBURG, Pa. -- Seven young adults from across the country are at Gettysburg to take on project "Restore Battlefield Landscapes at Gettysburg National Military Park" thanks to a cooperative agreement between American Conservation Experience (ACE) and the Department of the Interior.  
This summer, ACE crewmembers are helping eradicate invasive plant species; maintain and stabilize park trails near Big Round Top and Little Round Top; and build and re-establish wooden fences and stone walls.   
"The work done by ACE helps improve the historic appearance of the battlefield and contributes to our preservation efforts," said Acting Superintendent Bill Justice. "The work also benefits the public by providing opportunities for youth to engage in shared environmental education and stewardship of our national parks."  
"Right now we're working on spraying Canada thistle," said ACE Crewmember Kyle Plunkett from Oklahoma. "Our goal is to kill as many as we can before they go to seed and spread."  
The National Park Service at Gettysburg works to maintain major battle action areas on the battlefield as they looked at the time of the Battle of Gettysburg in 1863, to help the public better understand the soldiers' experiences on the battlefield. A large part of rehabilitating the landscape requires controlling and maintaining exotic invasive vegetation.  
The herbicide used to control Canada thistle complies with best management practices as well as with the Clean Air Act, the Endangered Species Act, the Federal Water Pollution Act, and Water Quality Act, and all other applicable laws and policies that protect the environment.   
North Carolina State University third-year student Margot Clyburn is majoring in biological and agricultural sciences. "I was looking for work related to my field of study. I wanted to get some hands-on experience."  
Tennessee crewmember Caleb Evans, a college biology major, agreed with Clyburn, indicating he wanted the same kind of resume-building experience.   
Illinois crewmember Nick Devor heard about ACE from his sister. "It sounded like something I would like. Plus, I wanted to do some work on restoring trails," he said. "I'm thinking about going back to school to pursue a degree in renewable resources or some kind of engineering."  
Other crewmembers include Joe Moser from Minnesota, Bryan Mathis from New Jersey, and Ryen Whitford from the state of Washington.    
Based on the Youth Conservation Corps, the ACE program partners with federal and state agencies throughout the United States to provide training, work experience, and opportunities for environmental education to diverse youth through conservation projects. As part of the cooperative agreement, ACE provides the tools and manpower, and Gettysburg National Military Park provides materials and in-field training.  
Crewmembers will be at Gettysburg through September. 
Last updated: July 25, 2017