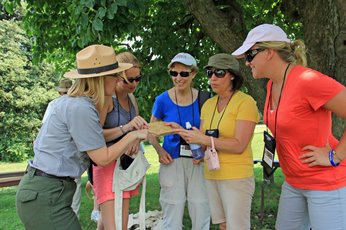 News Release Date:
September 29, 2014
Contact: Katie Lawhon, 717-338-4402
Gettysburg National Military Park is offering three "Days With Documents" –professional development opportunities for middle and high school teachers -- this November. These workshops will offer new ways to incorporate Common Core or other document-based learning objectives into the classroom.
Attending teachers will receive a certificate from the National Park Service, documenting their hours of in-class instruction for each of the days attending, as well as classroom copies of the documents, and a special opportunity to preview the new film about Abraham Lincoln's childhood, "The Better Angels."
On November 12, teachers will explore documents from the "Declaration of Independence to the Gettysburg Address." On November 13, speakers and break-out sessions will focus on documents surrounding "Civil War: Causes and Consequences." On November 14, the focus will be on documents from the "13th, 14th  and 15th Constitutional Amendments to the 1864 Civil Rights Act."
To register for one, two or all three "Days With Documents," go to www..gov/gett/forteachers and download the Teacher Professional Development reservation form. Each workshop will be held from 9 a.m. until 1 p.m.in the Ford Education Center, at the Gettysburg National Military Park Museum and Visitor Center. The workshops are free of charge, but participation is limited to the first 50 teachers to apply.
In addition, there will be a special opportunity to attend an educators' screening of the new film, "The Better Angels," as well as a discussion on incorporating the film into the classroom, adding an additional two hours of in-class instruction to the certificate. This film, spanning three years of Abraham Lincoln's childhood, explores his family, the hardships that shaped him, the tragedy that marked him forever, and the two women who guided him to immortality. It premiered at the Sundance Film Festival last January.
For more information about these events, contact Gettysburg National Military Park Education Specialist Barbara Sanders, email: Barbara_Sanders@nps.gov or by phone: 717/ 338-4422.