News Release
Civil War Cavalry Saber donated to Sekigahara Battlefield, Gifu Prefecture, Japan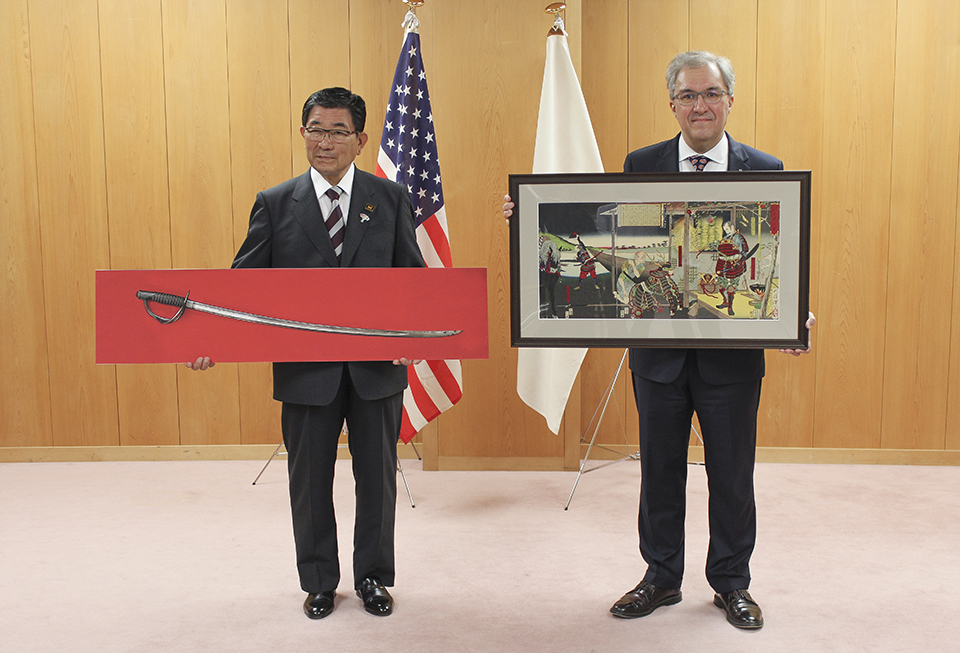 News Release Date:
November 3, 2021
Contact: Jason Martz, 717-338-4423
On October 22, 2021, a Civil War cavalry saber was unveiled at the Gifu Sekigahara Battlefield Museum to commemorate the opening of the museum. The Model 1860 light cavalry saber is a permanent donation from The Gettysburg Foundation: Gettysburg National Military Park's non-profit philanthropic partner. It was presented to the Governor of Gifu Prefecture, Hajime Furuta, by the Chief Consul of the U.S. Consulate in Nagoya, Matthew Cenzer. In exchange, Governor Hajime Furuta presented Chief Consul Cenzer with a Nishiki-e (multi-colored woodblock print meaning "brocade painting").

On behalf of Gettysburg National Military Park, Chief Consul Cenzer gave a speech to introduce the Model 1860 light cavalry saber and expressed a wish for further development and prosperity of the mutual partnership between the Gettysburg and Sekigahara battlefields. Governor Furuta expressed his deepest gratitude for the original saber and said that it would be displayed at Gifu Sekigahara Battlefield Memorial Museum. He was certain that the donated saber would contribute to strengthen the partnership which started from The World Battlefields Summit in 2016.

The scene of one of the largest samurai battles in history, the Battle of Sekigahara took place on October 21, 1600. Approximately 160,000 warriors from opposing Eastern and Western factions battled for just over six hours resulting in the deaths of 8,000 samurai and brought about 260 years of peace. Sekigahara was long regarded as a strategically important transportation hub that separated eastern and western Japan. Even today, travelling east or west, most travelers still cross the mountain passes and old barriers of Sekigahara.  

The donated saber was not present at the July 1-3, 1863 Battle of Gettysburg, as it was manufactured in 1864, but is representative of what a typical cavalry soldier carried during the Civil War. The Sekigahara Memorial Museum plans to display the saber along with other items already donated such as reproduction Union and Confederate uniforms.

On September 5, 2016 Gettysburg National Military Park signed a sister park agreement with the Sekigahara Battlefields in Gifu Prefecture, Japan. The Borough of Gettysburg also signed a sister city agreement with Sekigahara, Japan. Visit the Sekigahara Memorial Museum for more information about the Battle of Sekigahara: https://sekigahara.pref.gifu.lg.jp/en/.
Last updated: November 4, 2021