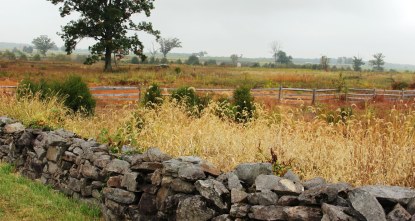 News Release Date:
September 17, 2015
Final preparations are underway for the prescribed fire at Gettysburg National Military Park (GETT) that will take place Friday, September 18, weather permitting.National Park Service (NPS) fire specialists will burn 30 acres northeast of the intersection of United States Avenue and Hancock Avenue, near the Pennsylvania Memorial.
The western portion of the project area is a large field that was owned by Conrad and Henry Neinstedt and produced wheat in 1863.The eastern portion was George Wiekert's pasture in 1863.During the battle of Gettysburg, hundreds of soldiers, as well as many horses and artillery pieces, trampled these agricultural lands.
GETT uses prescribed fire as a management technique to help maintain historically open fields of the Gettysburg battlefield landscapes, an important goal of the park's General Management Plan. A Management Plan/Environmental Assessment for GETT and Eisenhower National Historic Site Fire published in July 2014.
Scheduling a prescribed fire is dependent on conditions being within required weather parameters such as wind, temperature, and relative humidity.In case of unfavorable conditions, an alternative day may have to be selected. The prescribed fire will be conducted from late morning through the afternoon, followed by patrol and monitoring to ensure the fire is completely out.  The park will issue a follow-up news release if an alternate date is selected.
The perimeter of the prescribed fire will be mowed prior to ignition.The mowed area will be wetted with water.Additionally there will be a sprinkler line in place along the perimeter to thoroughly wet down the control lines as needed before the fire.NPS staff will monitor air quality and smoke impacts as well as visibility on nearby roads.Short-term closures of Hancock Avenue or United States Avenue may be necessary to ensure visitor and firefighter safety.
The overall objectives are to maintain the conditions of the battlefield as experienced by the soldiers who fought here;perpetuate the open space character of the landscape;maintain wildlife habitat, control invasive exotic species;and reduce shrub and woody species components.By choosing a time just before shrub and woody species move into winter dormancy, the effects of the fire reduces the plants' energy reserves and diminishes vigor and growth potential for the following spring.
A map of the project area and the Fire Management Plan/Environmental Assessment can be viewed on the park website, www.nps.gov/gett.
The project is funded by the National Park Service Wildland Fire Management Program.Personnel from the PA Bureau of Forestry are planning to assist in the prescribed fire implementation.
Gettysburg National Military Park is a unit of the National Park Service that preserves and protects the resources associated with the battle of Gettysburg and the Soldiers' National Cemetery, and provides an understanding of the events that occurred there within the context of American history. Information is available at www.nps.gov/gett.
MAP OF PROPOSED BURN AREA (pdf)
Gettysburg National Military Park
Neinstedt 1 Prescribed Fire, 2015
Questions and Answers
How many acres? The project area is 30 acres (East Unit-11 acres;West Unit-19 acres).
Where is the prescribed fire?The project areais within lands owned by the National Park Service (NPS) at the Gettysburg National Military Park in Adams County, PA. The prescribed fire unit is located approximately 0.5 miles south of the Borough of Gettysburg, and approximately 0 .25 miles west of State Route 134.
Why was this area selected? This area was selected because of a combination of preferred elements such as:
-The field areas are historic agricultural fields now composed of grass and occasional brush.
-There are relatively few cultural resources within this project area (1 monument, some earthworks, no structures or known archeological sites).There is a wooden fence line.These features will be protected with sprinklers and what is commonly known as a wet line.
-Woody shrubs and invasive species are reclaiming the fields and a prescribed fire in this location will aid in managing vegetation.
-In late October 2014 we attempted to do a prescribed fire in this area but the conditions were not favorable.
How many people will be working on the prescribed fire?At a minimum the Burn Plan recommends 12 fire qualified staff.We will have additional staff for training purposes.
How will NPS contain the prescribed fire?The perimeter of the prescribed fire will be mowed prior to ignition.The mowed area will be wetted with water.Additionally there will be a sprinkler line in place along the perimeter to keep the surrounding fields damp.Wind conditions and soil and vegetation moisture levels will dictate the exact time of ignition. If winds are too high or surrounding conditions are too dry the prescribed fire would be canceled and rescheduled for more favorable conditions.
How do prescribed fires differ in historic areas versus natural areas?In a natural area fire efforts may try to replicate natural fire cycles rather than accomplish a vegetative management goal.In a historic area like Gettysburg, potential archaeological artifacts and features like fences and stones walls must be protected.We'll be protecting and monitoring these features during the project.
- Large mammals and birds will leave the area due to all the human activity, smaller mammals, insect and reptiles and amphibians will tend to seek shelter below ground in hole, and burrows and avoid injury. They have adapted to the presence of fire over time. 
Are there areas locally that use prescribed fire to manage vegetation?Fort Indiantown Gap north of Harrisburg
Have local fire groups and governments been contacted? Yes, including the Pennsylvania Bureau of Forestry, Cumberland Township, and the Fire Chief Gettysburg.
What is the cost of burning this area?The average cost per acre is approximately roughly $150 per acre.
What is the significance of these fields?In the summer of 1863, the large field owned by Conrad and Henry Neinstedt that is today on the north side of United States Avenue was planted in wheat. It had grown tall and rich that summer. The Neinstedts lived in Gettysburg. Henry, who owned a thriving printing business, and Conrad, a laborer, used the parcel of land sandwiched between the Abraham Trostle and George Weikert farms to provide their families with a wheat for flour, as well as a cash crop for sale to local residents. On the eastern border of the Neinstedt's land was George Weikert's orchard and pasture.This land was also in fine condition prior to the arrival of the two armies on what would be the battleground of Gettysburg. Union skirmishers deployed over the Neinstedt's land overnight of July 1, and by the end of July 2, the Neinstedt's wheat crop was gone;trampled near to dust by hundreds of soldiers as well as horses and artillery pieces rushing to the front. Near the center of the field, Battery I, 5th United States Artillery had made a desperate stand against the 21st Mississippi Infantry, only to be overrun and captured until Union reinforcements arrived to re-take the guns. This scene of intense fighting on July 2, 1863, has been preserved as farmland ever since.Its significance is partially overshadowed by events that took place nearby on July 3, 1863 - Pickett's Charge.
9/16/15