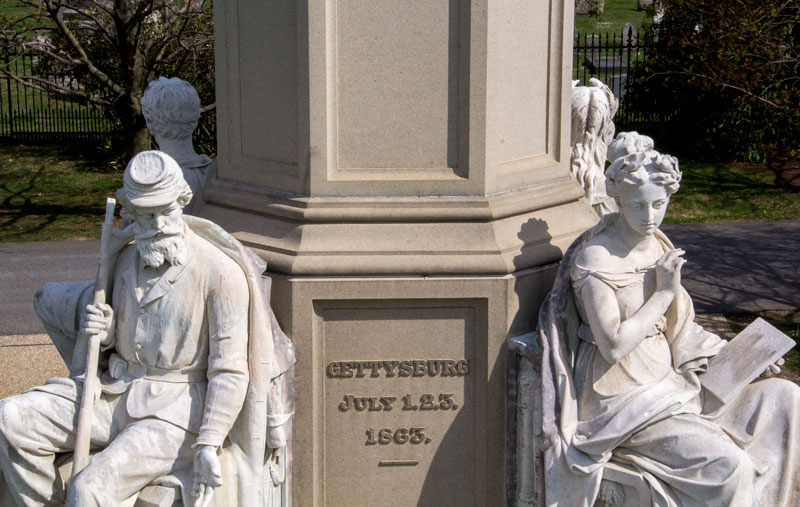 News Release Date:
August 30, 2017
Contact: Wendy Allen, 203-770-3421
The notes of Taps have filled the air in Gettysburg every evening this summer as the famous 24-note call was sounded in honor of those who have served our nation. The
Lincoln Fellowship of Pennsylvania
in partnership with Taps For Veterans and Gettysburg National Military Park invite the public to attend the closing ceremony for One Hundred Nights of Taps in the Soldiers' National Cemetery at Gettysburg at 7 pm on Labor Day, September 4.  
The program, arranged by Jari Villanueva, will include a fife and drum corps led by Geoff Spangler and a performance of "A Bugler's Fantasy"-an arrangement by Bill Holcombe of bugle calls for four trumpets. The performance will feature four extremely talented trumpeters-Justin Nurin, Brian Sanders, John Schmitt and Paul DeLuca.   
Taps will be sounded in the round to close off the program and there is an open invitation for any bugler to attend. The Star-Spangled Banner and God Bless America will also be performed at the Soldiers' National Monument in the Gettysburg National Cemetery.  
Background to Event: Wendy Allen, Vice President of the Lincoln Fellowship of Pennsylvania and the artist/co-owner of Lincoln Into Art, a Gettysburg art gallery, conceived the idea for an evening tribute to our military men and women after witnessing the nightly sounding of Last Post at the Menin Gate in Ieper (Ypres), Belgium. Allen, Vice-President of the Lincoln Fellowship of Pennsylvania, reached out to the National Park Service for permission to have this daily performance during the summer of 2017 and contacted Jari Villanueva, bugler and bugle historian who is considered the country's foremost authority on Taps to help coordinate buglers.  
Through his network of buglers across our nation, Villanueva is assembling performers to sound the iconic bugle call each evening at 7 pm. Villanueva says, "There is no greater way for buglers to express their appreciation to those who have served than to sound Taps. For over 150 years this call has defined our nation's solemn tribute to Americans." Villanueva served as an Air Force bugler at Arlington National Cemetery for 23 years and continues his service for Maryland veterans.  
The Soldiers' National Cemetery is home to more than 3,500 Union Army veterans as well as veterans from more recent wars. Visitors from around the world tour these hallowed grounds to pay respects to the fallen soldiers as well as honor one of America's most famous speeches.  
The Lincoln Fellowship of Pennsylvania was formed in 1938 to observe each anniversary of the birth of Abraham Lincoln, to fittingly commemorate the anniversary of the dedication of the cemetery in Gettysburg and Lincoln's "Gettysburg Address." In addition, the Fellowship, preserves and makes more readily accessible the landmarks associated with Lincoln's life and ancestry within Pennsylvania and actively encourage the youth of Pennsylvania to embrace his ideals.  
Taps for Veterans is an organization that facilitates locating competent, trained buglers to perform the honorable duty of sounding Taps at military funerals and ceremonies.  
Recommended parking is at the Cemetery Lot on Taneytown Road.  
Gettysburg National Military Park preserves, protects and interprets for this and future generations the resources associated with the 1863 Battle of Gettysburg, during the American Civil War, the Soldiers' National Cemetery, and their commemorations. Learn more at www.nps.gov/gett.