Date:
March 7, 2014
Contact:
Katie Lawhon
, (717) 334-1124, ext. 3121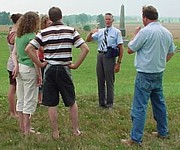 In 2015, the Licensed Battlefield Guide program at Gettysburg National Military Park (NMP) will celebrate 100 years of service. During the next year, the National Park Service (NPS) will work with Licensed Battlefield Guides and interested members of the public to plan a celebration and commemoration of the Guides' unique service on the Gettysburg battlefield. 
Gettysburg NMP and Civil War experts from near and far agree that the best way to get a comprehensive overview of the Gettysburg battlefield is to take a tour with a Licensed Battlefield Guide.
The NPS is charged with overseeing the Guide program, including the testing and licensing of private citizens to provide for-fee tours of the Gettysburg battlefield to the public. In anticipation of the second century of the Guide force at Gettysburg, the NPS wants to improve the process for becoming a Licensed Battlefield Guide.  Currently, a written exam is the first step in the licensing process. Successful candidates then complete a training session and, finally, they must pass an oral exam. The testing process has been largely unchanged for 20 years.
Anticipated improvements will attempt to address a disparity between the number of candidates who succeed at the written exam and the number who succeed in the oral exam.  
"We want to develop a licensing process that increases the success rates for interested candidates—and not just the success rate—we want to ensure the continued excellence of the program and the tours for the next 100 years," said Ed W. Clark, Gettysburg NMP Superintendent.
To begin this improvement process, the exam tentatively scheduled for December 2014 will not be offered. The next written examination for future Licensed Battlefield Guides will be hosted by the park in the winter of 2015/2016. 
"We feel the park has an adequate number of guide candidates to meet our needs since 12 of the 20 successful candidates from the last written exam are still waiting to go through the final phase of the licensing process," added Clark.
To contribute your ideas, or for more information, contact Supervisory Park Ranger Angela Atkinson by email at: Angela_Atkinson@nps.gov. 
Gettysburg National Military Park preserves and protects the resources associated with the Battle of Gettysburg and the Soldiers' National Cemetery and provides an understanding of the events that occurred there within the context of American history. More information is available at www.nps.gov/gett.