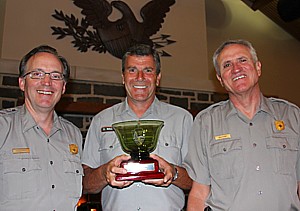 News Release Date:
June 15, 2012
Contact: Katie Lawhon, (717) 334-1124, ext. 3121
The National Park Service Northeast Region selected Daniel Mazzotti of Gettysburg National Military Park as one of three regional recipients of the Appleman-Judd-Lewis Award. The award recognizes outstanding contributions to cultural resource stewardship in three categories-one for a cultural resource specialist, one for a facility maintenance specialist and one for a park superintendent. Winners in the 13-state northeast region are nominated for the same awards at the national level.
Supervisory Exhibits Specialist Daniel Mazzotti, with the Historic Structures Branch at Gettysburg National Military Park and Eisenhower National Historic Site, received the award for Cultural Resource Stewardship through Maintenance. Mazzotti is praised for his motivational skills, collaborative approach to projects and his innovative leadership in preservation. He was cited for his mentorship role in the Preservation and Skills Program (PAST) and his detailed research and work to preserve the historic fabric of the Blocher House and Eisenhower Farm Barn. He worked collaboratively with historians, cultural resource managers, historic architects and other specialists to synthesize information about historic structures and make sound decisions about building preservation.
"Each of the award recipients' efforts in cultural resources highlights their commitment to professional excellence," said Dennis Reidenbach, regional director. "Thanks to their innovative work, the northeast region is at the leading edge of efforts to preserve the nation's cultural legacy."
The Appleman-Judd-Lewis Award was established in 1970. It is named for three well-respected, long-time National Park Service employees: Historian Roy E. Appleman, Historical Architect Henry A. Judd, and Curator Ralph H. Lewis. These awards encourage creativity in cultural resource stewardship and innovative management practices and projects. Superintendent Russ Smith of Fredericksburg and Spotsylvania National Military Park and Charles Tonetti, chief historical architect at Independence National Historical Park, also received the regional award. The national award recipient will be announced later this year.