Date:
November 25, 2013
Contact:
Katie Lawhon
, (717) 334-1124, ext. 3121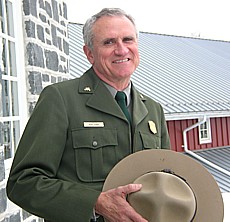 Secretary of the Interior Sally Jewell, National Park Service Director Jonathan B. Jarvis, and Northeast Regional Director Dennis Reidenbach presented Gettysburg National Military Park Superintendent Bob Kirby with the Superior Service Award of the Department of the Interior. The award came shortly after the close of the Nov. 19 program to commemorate the 150th anniversary of the dedication of the Soldiers' National Cemetery at Gettysburg.
Kirby was honored for his leadership, vision and planning efforts for the 150th anniversary commemorations of the Battle of Gettysburg and Abraham Lincoln's Gettysburg Address.
According to the citation, "Mr. Kirby's exceptional interpersonal skills and deep understanding of visitor expectations laid the foundations for the three-year planning effort for both the July commemorative events and the November 19 Dedication Day ceremony of the Soldiers' National Cemetery." The award commends Kirby for his work with the Gettysburg Civil War 150th steering committee, his vision and vigilant support for Freedom Transit's key role in providing public transportation during special events, and his devotion to public service.
"His commitment to sharing the meaning of Gettysburg and that of the National Park Service is a stellar example of the meaning of our mission to provide for the enjoyment of present and future generations," said Reidenbach.
On January 3, 2014, Kirby will retire from the National Park Service after 40 years of Federal service. He has been superintendent of Gettysburg National Military Park and Eisenhower National Historic Site since March 2010. Previously he served as superintendent of Petersburg National Battlefield in Virginia; assistant superintendent at Delaware Water Gap National Recreation Area in Pennsylvania and New Jersey. He also held positions at Lowell National Historical Park in Massachusetts, the Defense Logistics Agency in Utah, the Department of the Army in West Germany, and Golden Gate National Recreation Area in California.
Kirby has a bachelor's degree in recreation and leisure studies and a master's degree in recreation and park management, both from San Francisco State University. He is married to Beth, his wife of 28 years, and has two grown children currently living in California.
Gettysburg National Military Park preserves and protects the resources associated with the Battle of Gettysburg and the Soldiers' National Cemetery and provides an understanding of the events that occurred there within the context of American history. More information is available at www.nps.gov/gett. The mission of the Eisenhower National Historic Site is to protect and preserve the resources associated with the site in order to promote understanding and appreciation of the life, work and times of Dwight David Eisenhower. The park's web site is www.nps.gov/eise.