Gettysburg National Military Park Honors James Tate
Date:
May 18, 2012
Contact:
Katie Lawhon
, (717) 334-1124, ext. 3121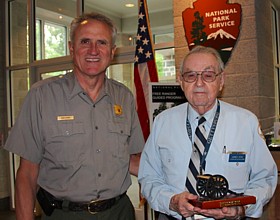 Gettysburg Licensed Battlefield Guide James Tate was presented with the Superintendent's Award for Excellence in April for "Lifelong Excellence" as a Licensed Battlefield Guide. Tate has served for 60 years as a licensed guide on the Gettysburg battlefield. Gettysburg National Military Park Superintendent Bob Kirby presented the award.