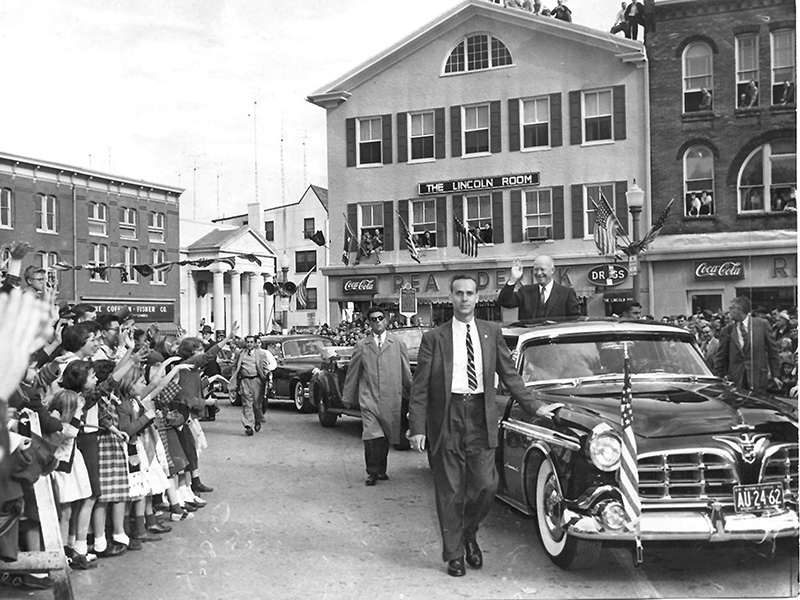 News Release Date:
May 19, 2017
Contact: Ahna Wilson, 717-338-9114 x 4411
President Eisenhower's 1955 Chrysler Crown Imperial Derham limousine will be featured as part of Gettysburg's Memorial Day Parade May 29 beginning at 2 pm.  
The parade will begin at Lefever Street in Gettysburg and head northeast to Middle Street; turn west on East Middle Street, and south on Baltimore Street to the Soldiers' National Cemetery.  
The Imperial Chrysler Corporation built the limousine for President Eisenhower's fleet of White House vehicles. The car was then modified to meet the President's requirements, which included installing frameless windows on the sides so the public could see the President, plus installing a sunroof with grab rails so the President could stand up in the rear to greet crowds. The Secret Service added a two-way radio system and flashing red lights in the grille. A 250-horsepower, V-8 "Hemi" engine, coupled with a two-speed Powerflyte transmission, powered the 149-inch wheelbase car while aircraft-style disc brakes brought its 5100 pounds to a stop.  
Although the White House fleet had several vehicles, this limousine became President Eisenhower's everyday car. It made several trips between the White House and the Eisenhowers' Gettysburg farm.  
The Chrysler Corporation reclaimed this limousine from the White House in 1961 when its 5-year lease expired. Sold into private ownership, it was later donated to the Eisenhower National Historic Site in 2009 by a private estate.   
Dwight D. "Ike" Eisenhower was the 34
th
 President of the United States (1953-1961), having served two terms before retiring to Gettysburg in 1961 with his wife Maime. He was born in 1890 in Denison, Texas, and attended West Point. He rose through military ranks thanks to his exceptional organizational skills and keen ability to develop strategy. By 1943, he had earned the top job of Supreme Allied Commander of the Allied Expeditionary Force in Europe during World War II, after which he was appointed U.S. Army Chief of Staff in 1945. He became the first Supreme Allied Commander of the North Atlantic Treaty Organization (NATO) in 1951. Many historians consider his most important decision of World War II was issuing the order to launch the D-Day assault on German defenses in occupied France, which was the largest amphibious attack in history, and resulted in driving German forces back to their homeland. Eisenhower died on March 28, 1969, at the Walter Reed Army Hospital in Washington, D.C. Learn more about President Eisenhower's career at 
https://www.nps.gov/articles/general-eisenhower.htm
.    
Eisenhower National Historic Site preserves and interprets the home and the farm as a fitting and enduring tribute to the life, work, and times of General Dwight David Eisenhower and to the events of far reaching importance which occurred on the property. Learn more at 
www.nps.gov/eise
.