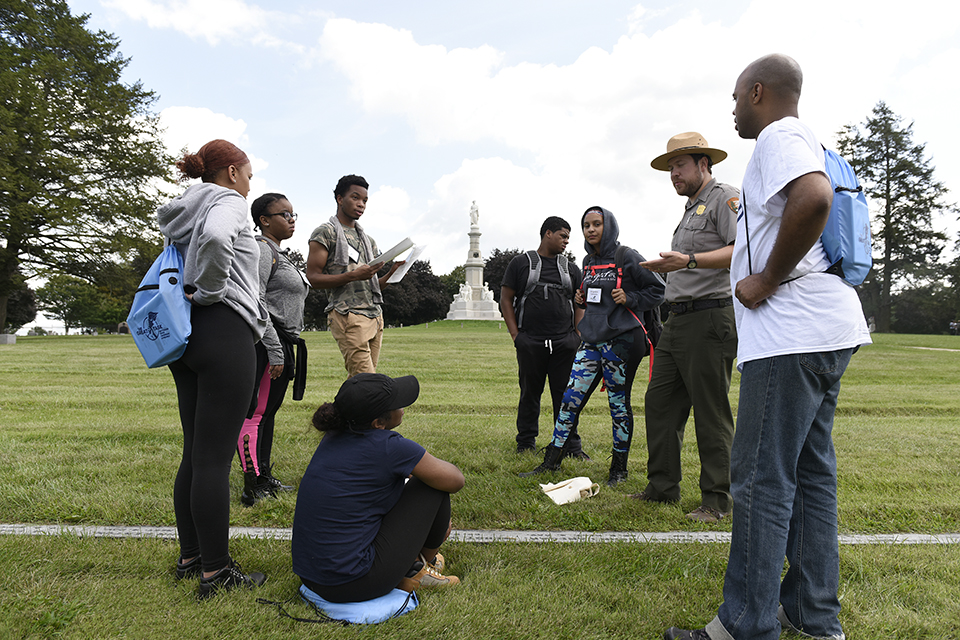 News Release Date:
March 27, 2018
Contact: Katie Lawhon, 717-338-4402
It is rather for us to be here dedicated to the great task remaining before us – that from these honored dead we take increased devotion to that cause for which they gave the last full measure of devotion…
~ President Abraham Lincoln, November 19, 1863
Gettysburg, PA – History can do more than instruct; it can also inspire. In that spirit, Gettysburg National Military Park is offering "Great Task" Youth Programs in Community Service and Leadership for student or youth groups in grade levels 7 to 12, looking for intensive leadership and character-building experiences that go beyond traditional curriculum-based field trips. To learn more about these opportunities and to receive an application, group leaders and teachers can
email the Education Office
.  
Applications will be accepted from now through May for two-day Great Task excursions to be scheduled from mid-July to mid-October. Limited travel and accommodation scholarships are available for qualifying groups.  
While in Gettysburg, participants of the "Great Task" program will learn about the actions, decisions, leadership and other traits (including integrity, endurance, teamwork and others) demonstrated by ordinary individuals confronted with the extraordinary challenges presented by the Battle of Gettysburg, whether they were soldiers, doctors, nurses, or civilians. Spending full and active days throughout the park learning how to train an artillery unit, setting up a field hospital and organizing triage, building Virginia rail fences, and writing a short speech to inspire future generations through difficult and changing times, are just some of the on-site activities.  
But their experiences will not end here. Participating students will work to apply lessons of leadership and good character to identified community service projects in their own home communities. One of the participating groups will receive an award and grant toward their identified community service project(s).  
The 2017 inaugural "Great Task" Community Leadership Award was presented on the anniversary of Lincoln's Gettysburg Address, November 19, 2017, to students from the Edgar Fahs Smith STEAM Academy in York, PA. These inspiring students have already completed two service projects in the York area – a Winter STEAM Fun Day when they hosted 25 children ages 5-12 currently living with foster families, and an outreach work day with an area nursing home where they met and interviewed the residents, learned of their heritage, and became fast friends, despite their differences in age and backgrounds. As a teacher at the STEAM Academy declared, "This experience has provided a platform [for the students] for a very powerful demonstration of civic engagement and leadership!" 
The Great Task education programs are supported by the
Gettysburg Foundation
, made possible by the Robert H. Smith Family Foundation.  
Gettysburg National Military Park preserves, protects and interprets for this and future generations the resources associated with the 1863 Battle of Gettysburg, during the American Civil War, the Soldiers' National Cemetery, and their commemorations. Learn more at www.nps.gov/gett.