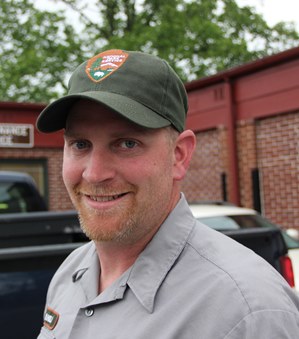 News Release Date:
May 29, 2014
Contact: Katie Lawhon, (717) 334-1124, ext. 3121
On May 16, 2014, Randall Hill graduated from a six-month National Park Service (NPS) program called the GOAL Leadership Academy, which stands for Generating Organizational Advancement & Leadership. 
Hill was one of 74 students in the program which included training and assignments at the Grand Canyon, the Philadelphia, Golden Gate Recreational Area in San Francisco, and the NPS Washington Office. 
To demonstrate his leadership skills Hill and a team of NPS employees completed a project to utilize goats for managing vegetation in the NPS Northeast region, which includes parks from Virginia to Maine. The team surveyed the region for needs, and created a packet with pros and cons, including environmental concerns, greenhouse gas emissions savings, and labor savings for use of both goats and sheep. The proposal has been implemented at Fort Wadsworth in Gateway National Recreation Area, in New York City.
Hill resides in Spring Grove, Pa., and is currently Acting Chief of Maintenance at Gettysburg National Military Park and Eisenhower National Historic Site. 
"I enrolled in the course to advance myself and to make myself a better leader," said Hill. "I'd like to thank Melissa Simms and Mike Caldwell from the NPS Northeast Region for supporting the program."
Gettysburg National Military Park is a unit of the National Park Service that preserves and protects the resources associated with the Battle of Gettysburg and the Soldiers' National Cemetery, and provides an understanding of the events that occurred there within the context of American History. Information is available at www.nps.gov/gett.