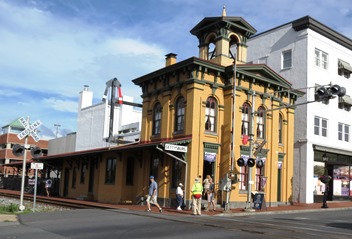 News Release Date:
November 13, 2013
Contact: Cindy Small, (717) 339-2109
The Gettysburg Foundation's offer to purchase the Gettysburg Railroad Station was unanimously accepted by the Borough of Gettysburg at the Borough Council meeting held November 12, 2013.
Gettysburg Foundation President Joanne Hanley stated, "The Gettysburg Foundation is pleased to acquire the Gettysburg Railroad Station from the Borough of Gettysburg.
We are very appreciative of all the hard work of the Borough, who acquired the property in May of 1998 and since then has renovated and preserved this building. The Foundation plans to hold the train station on behalf of Gettysburg National Military Park until Congress passes legislation to include the station in the boundary of the park, at which time the Gettysburg Foundation will donate the train station to the park."
Hanley continued, "Currently the Gettysburg Convention and Visitors Bureau uses the station as a visitor contact center, and the Foundation plans to continue this arrangement with the CVB. We look forward to working with the National Park Service on this very important historic structure and are very pleased to be able to be the stewards of this property until it becomes part of the National Park Service. We could not have accomplished this without a generous grant from the Richard King Mellon Foundation, as well as support from the Tawani Foundation and local resident and supporter William E. Aldrich."
The lasting significance of the Gettysburg Railroad Station came to be on November 18, 1863, when the President of the United States, Abraham Lincoln, arrived here for an overnight stay with local Attorney David Wills and, on the following day, the dedication of the Soldiers' National Cemetery at Gettysburg; he departed from the Station as well. The building is also important because of its role as a hospital on July 1st, 1863 and in the battle's aftermath once rail service was restored to Gettysburg.
The Gettysburg Foundation is a non-profit educational organization working in partnership with the National Park Service to enhance preservation and understanding of the heritage and lasting significance of Gettysburg. The Foundation raised funds for and now operates the Museum and Visitor Center at Gettysburg National Military Park, which opened in April 2008. In addition to operating the Museum and Visitor Center, the Foundation has a broad preservation mission that includes land, monument and artifact preservation and battlefield rehabilitation—all in support of the National Park Service's goals at Gettysburg.
For information about the Foundation, about visiting Gettysburg, or how you can become a part of the history of Gettysburg through your contribution, becoming a member or volunteering, visit www.gettysburgfoundation.org or call 877-874-2478 or the administrative offices at 717-338-1243.