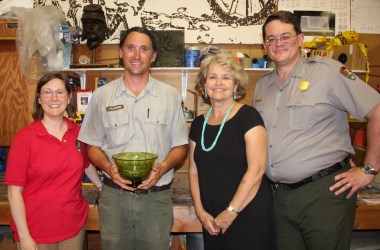 News Release Date:
August 6, 2014
Contact: Katie Lawhon, (717) 334-1124, ext. 3121
The National Park Service Northeast Region's 2013 Appleman Judd Lewis Awards for Excellence in Cultural Resource Management have been awarded to Lucas Flickinger, Gettysburg National Military Park for Maintenance Employee of the Year, 
Lucas Flickinger leads the Monument Preservation Branch at Gettysburg that is responsible for the care and preservation of more than 1300 monuments, memorials and markers and 400 cannon that dot the battlefield landscape. He was nominated for creating innovative partnerships and establishing efficiencies that have eliminated an enormous work backlog. Of special note were repairs made to two monuments that had been vandalized in 2006. Flickinger and his team sculpted a new arm for the 11th Massachusetts Infantry Monument and a new bronze head and rammer for the 4th New York Artillery Monument.
The NPS Northeast Region's also presented 2013 Appleman Judd Lewis Awards to  Kendall, St. Gaudens National Historic Site for Superintendent of the Year and Bob Page, Director of the Olmsted Center for Landscape Preservation for Cultural Resource Specialist of the Year. The award winners were presented a hand blown glass bowl engraved with an NPS arrowhead from the Jamestown Glass House at Colonial National Historical Park.
Gettysburg National Military Park is a unit of the National Park Service that preserves and protects the resources associated with the Battle of Gettysburg and the Soldiers' National Cemetery, and provides an understanding of the events that occurred there within the context of American History. Information is available at www.nps.gov/gett.