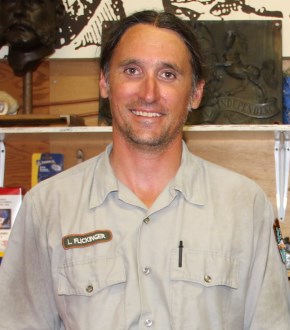 News Release Date:
December 15, 2014
Contact: Kathy Kupper , 202-208-6843
WASHINGTON – Employees who played vital roles in preserving battlefield monuments, telling the story of Haitian Americans in the Civil War, and uncovering new archaeological discoveries today received the 2013 National Park Service Appleman-Judd-Lewis Award for Excellence in Cultural Resources Stewardship and Management.
"The accomplishments of the three winners demonstrate the variety of ways in which the National Park Service preserves and presents America's heritage," said National Park Service Director Jonathan B. Jarvis. "The projects concentrated on different aspects of our history, each one of them an important part of our national story."
Lucas Flickinger from Gettysburg National Military Park received the Appleman-Judd-Lewis Award for Excellence in Cultural Resource Stewardship through Maintenance.  His group also maintains more than 400 Civil War-era cannon.
Thanks to Flicklinger's creativity, partnerships and efficiencies, the park is eliminating major repair backlogs. In 2013, Flicklinger and his crew completed preservation maintenance on more than 500 monuments, cannons, fences, plaques, and signs. They also repaired and restored two major monuments that had been vandalized – they sculpted a new arm for the 11th Massachusetts Infantry monument and sculpted a new bronze head for the 4th New York Artillery monument. 
Marty Blatt from Boston African American National Historic Site and Boston National Historical Park received the Appleman-Judd-Lewis Award for Excellence in Cultural Resource Management.
Blatt conceived the idea for "Roots of Liberty –The Haitian Revolution and The American Civil War," a historical pageant performed at the historic Tremont Temple in May 2013 that was part of a Civil War sesquicentennial program entitled "Freedom Rising –The Emancipation Proclamation and African American Service in the Civil War."
Knowing that the Haitian Revolution greatly influenced black and white abolitionists and black Union troops, Blatt worked with the Underground Railway Theater to produce the play which featured a diverse cast of actors and actresses, dancers, music, a choir and an enormous puppet figure of Haitian leader Toussaint Louverture. Renowned actor Danny Glover portrayed Louverture. Part of the script was crafted by Haitian American writer Edwidge Danticat, who, along with Glover, participated in a post-pageant conversation with Harvard's Henry Louis Gates, Jr. The performance attracted an overflow crowd of more than 1,700 people. 
Duane Hubbard, currently the superintendent of Tonto National Monument, received the Appleman-Judd-Lewis Award for Excellence in Cultural Resource Management. Hubbard was cited for his work as a regional archaeologist where he developed and implemented a variety of projects for 10 southern Arizona parks.
In 2013, Hubbard helped develop regional guidance for the annual budget request process and for reporting key performance and efficiency measures. He served as the National Park Service and Arizona State Historic Preservation Office liaison on the Arizona Governor's Archaeology Advisory Commission. He was responsible for projects that resulted in new archeological discoveries, cultural resource management tasks, the development of technologically advanced documentation and data management techniques, and the development of web-based interpretation for National Park Service cultural resources. He also assisted park managers with compliance and monitoring, project planning, and annual reporting. 
The awards were established in 1970 to honor Roy E. Appleman, a highly respected National Park Service historian who worked for the agency from 1935 to 1970 and retired as chief of the Washington Office Branch of Park History Studies. In 1979, Henry A. Judd's name was added to the awards upon his retirement as Chief Historical Architect. Judd started his National Park Service career as a historical architect in 1954. In 2006, the award's name was expanded to include Ralph H. Lewis in commemoration of his pioneering contributions to museum management within the National Park Service and the museum profession at large.