Park Receives Excellence in Interpretation Award
Date:
December 16, 2010
In early December, Barb Sanders and Scott Hartwig at Gettysburg National Military Park received an Excellence in Interpretation Award from the National Park Service Northeast Region. The award recognized their role in the development of the film, "Big Deal at Gettysburg: The Value of Historical Places," a multimedia product aimed at providing an understanding of the value of historic places to students.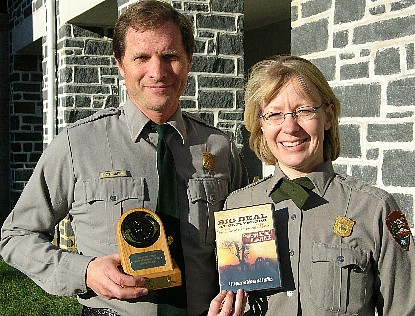 Sanders is the park's Education Specialist and Hartwig is the park's Supervisory Historian. Together they developed the concept, script and created lesson plans to reach a national audience, some of whom may never be able to come to the park. Their idea was to provide teachers and students the tools necessary to understand and come to their own decisions on the value of preserving our nations' heritage.
The broadcast is a DVD which includes a three segment film (20 minutes per segment) and lesson plans loaded as .pdf files which allow teachers and home users to engage in active discussions about the segments as they are viewed.
Sanders and Hartwig both have key on-screen roles in the film, presenting the story to viewers. They purposely included park partners in the project to make it clear to the audience that "historic places" exist in many areas and do not have to be owned or operated by the National Park Service to be worthy of protection. The project included the Soldiers' National Cemetery within Gettysburg National Military Park; the George Spangler farm, which is inside the park boundary but owned by the Gettysburg Foundation; the David Wills House, which is a park site operated by Main Street Gettysburg; and the Lincoln Train Station, a site owned by the Borough of Gettysburg and operated by the Lincoln Fellowship of Pennsylvania. The lesson plans meet National Council of Social Studies curriculum standards and themes.
The broadcast aired several times over the course of the spring in 2010 with approximately 8 million students, teachers and home viewers taking advantage of the broadcast and the pre and post broadcast activities posted on the park web site. The complete project is now available as a DVD (film, pre and post broadcast materials/lesson plans) in the bookstore at the Gettysburg National Military Park Museum and Visitor Center.
Gettysburg National Military Park offers eight different curriculum and mission-based programs for school groups, accredited teacher workshops, traveling trunks that are shipped to schools all across the country, and--most recently--the "Big Deal at Gettysburg" DVD and lesson plans on historic preservation. For more information, go to the "For Teachers" page at www.nps.gov/gett.