Date:
October 7, 2014
Contact:
Katie Lawhon
, (717) 334-1124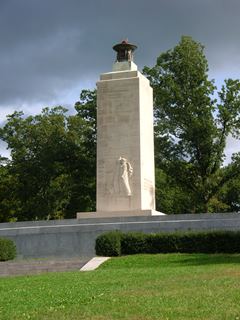 Gettysburg National Military Park maintenance staff has completed safety upgrades and repairs to the Eternal Light Peace Memorial and will re-ignite the gas-fueled eternal flame on Wednesday, October 8 during a special program. 

Supervisory Park Ranger Christopher Gwinn will provide a brief history of the significance of the Eternal Light Peace Memorial at 10 a.m. During the free, 30 minute public program, park maintenance staff will re-light the flame after nearly six weeks of outage.

The igniter failed on August 20 which caused to flame to go out. Park staff have corrected mechanical failures on the igniter, igniter enclosure and associated wiring. The park also improved safety and access to the equipment, which is approximately 35 feet up the inside of the memorial shaft, with a new fall protection system that meets the standards of the Occupational Health and Safety Administration.

When:              October 8

Time:               

10:00 a.m.

interpretive program open to the public, free. During this program, park staff will re-light the Eternal Light Peace Memorial.

Duration:          During a 30 minute interpretive program.

Location:         Eternal Light Peace Memorial. Stop #2 on the Gettysburg National Military Park auto tour route.