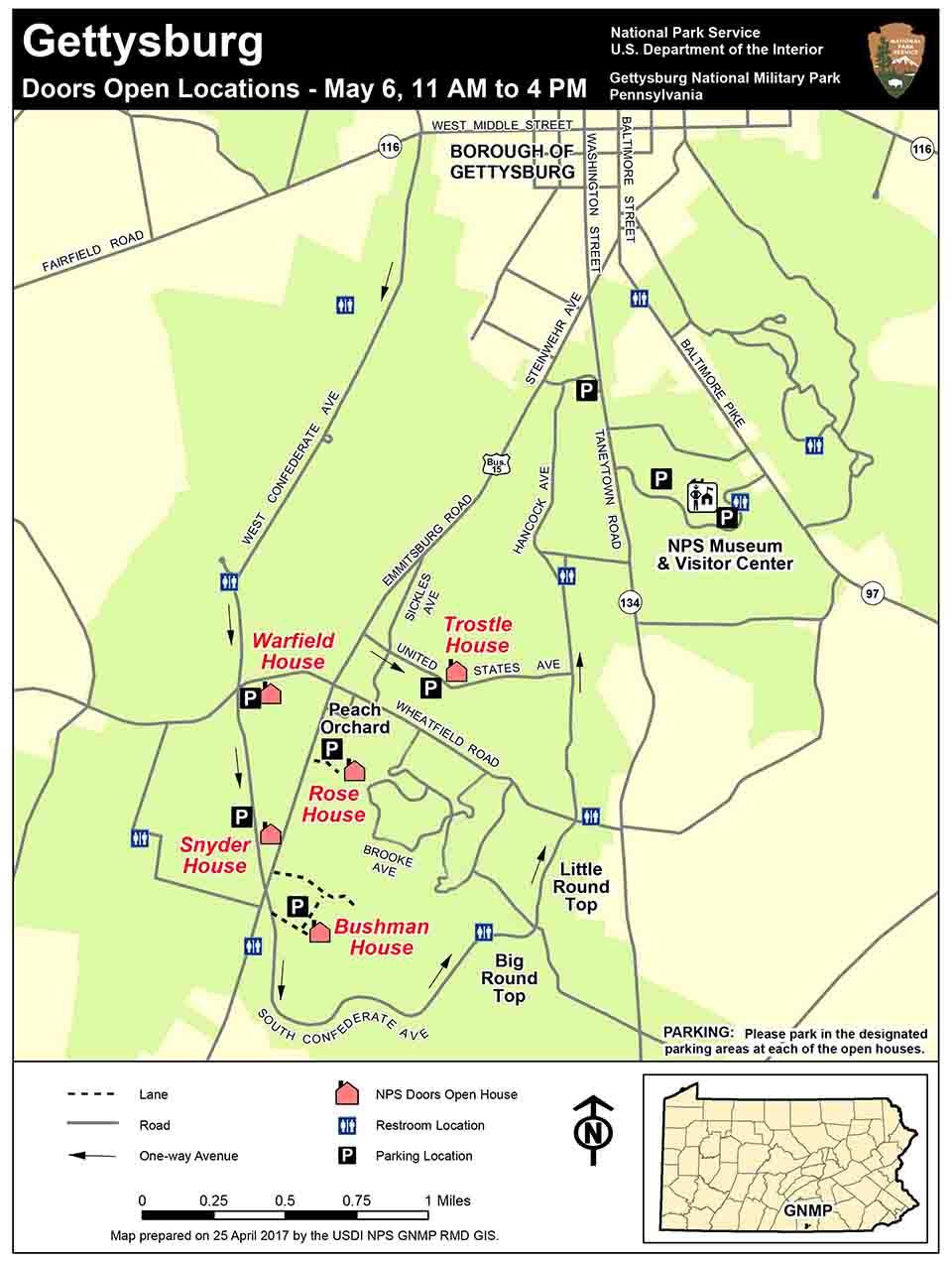 News Release Date:
May 2, 2017
Contact: Katie Lawhon, 717-338-4402
Gettysburg, Pa.  –
The National Park Service has announced a parking change for one of the houses featured in Doors Open Gettysburg, a free preservation event planned for this Saturday, May 6, from 11 a.m. until 4 p.m.  
Parking for the John Rose house will be in the field north of the main driveway to the house located at 1300 Emmitsburg Road, Gettysburg, not along Brooke Avenue as previously announced. The John Rose house was a temporary aid station and burial site of Confederate soldiers.   
No tickets are required for this free event at Gettysburg National Military Park, which features an inside look at five historic houses on the battlefield. The event is held annually as part of National Historic Preservation Month. This year's sites are the Michael Bushman house; the James Warfield house; the Philip Snyder house; the Catherine Trostle house; and the John Rose house.  
Michael Bushman house: Caught between Confederate soldiers attacking Little Round Top and the United States Sharpshooter position. Park along South Confederate Avenue.  
James Warfield house: Occupied at the time of the battle by a member of Gettysburg's African American community. Park along West Confederate Avenue.  
Philip Snyder house: Jumping off point for a portion of John Bell Hood's division on July 2, 1863. Park along West Confederate Avenue.  
Catherine Trostle house: Location where Gen. Daniel Sickles was injured on July 2, 1863. Park along United States Avenue.  
An insider's look at Eisenhower National Historic Site – as part of Doors Open, ticketed visitors to the Eisenhower site who ride the shuttle from 9 a.m. to 4 p.m. will have the opportunity to look into open garage doors and get a close look at Eisenhower's historic vehicles. The shuttles to Eisenhower operate from the Gettysburg National Military Park Museum and Visitor Center, 1195 Baltimore Pike, Gettysburg.  
To cap off the evening, at 6:00 pm, Eisenhower will sponsor a special performance by the West Point Alumni Glee Club. The hour long concert is free to the public and will take place in the back yard of President Eisenhower's Gettysburg home. Parking is available on site for the performance. Vehicles may enter through the site's main gate off of Millerstown Road. The gate opens at 5:30 pm.  
The West Point Alumni Glee Club is made up of graduates from the United States Military Academy at West Point, 75 percent of whom are combat veterans with an average of 20 years active duty service. Members perform as ambassadors of West Point and the Army, believing in the importance of traditional music in their service to the nation. In the case of bad weather, the event will be moved to the Group Lobby of the Gettysburg National Military Park Visitor Center.