News Release
Explore Four Gettysburg Structures During "Doors Open Gettysburg" on May 4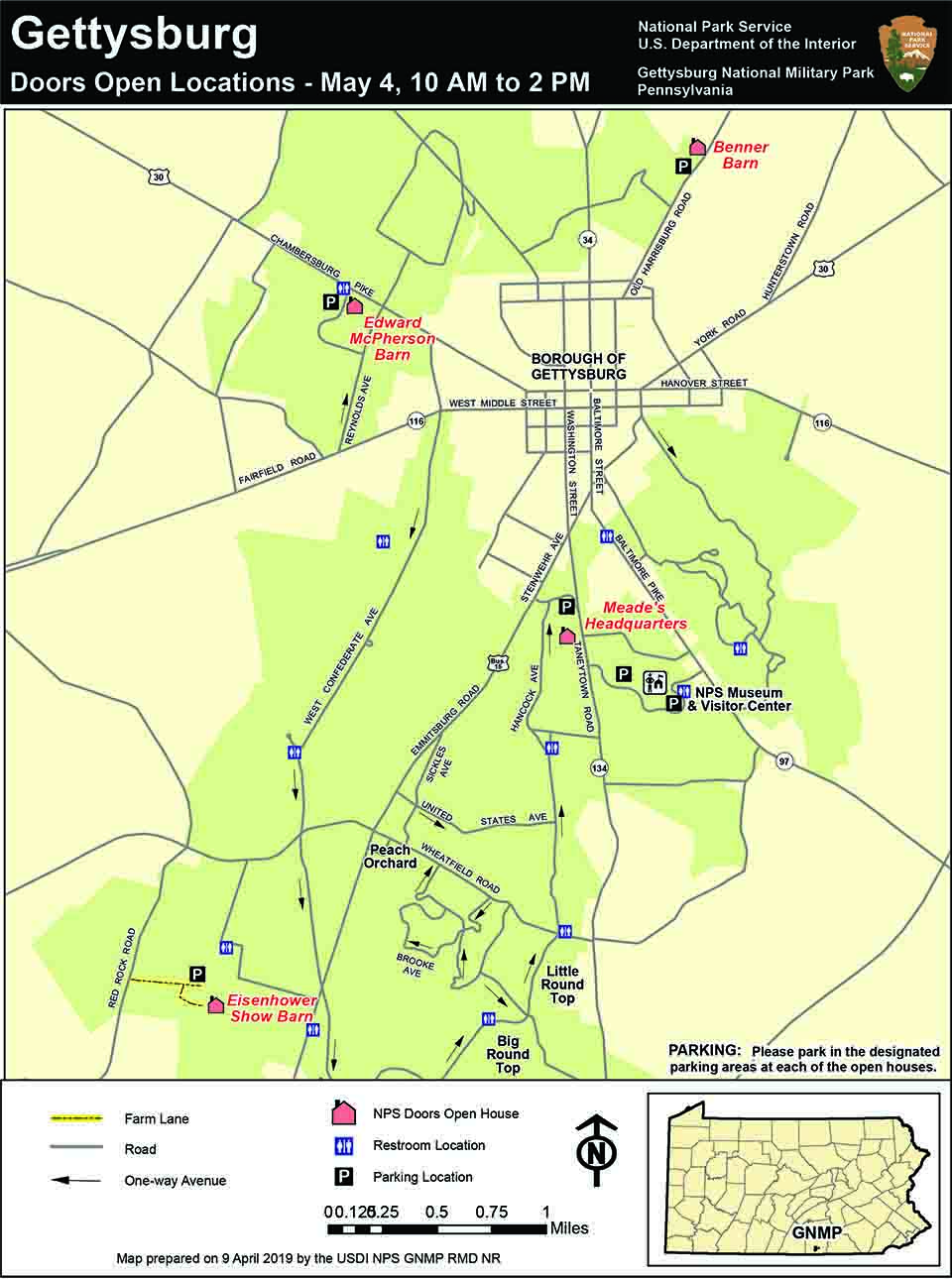 News Release Date:
April 17, 2019
Contact: Jason Martz, 717-338-4423
The fourth annual Doors Open Gettysburg event offers an insider's look at the preservation and history of four magnificent battlefield and farm structures at Gettysburg National Military Park and Eisenhower National Historic Site. This free event is held during National Historic Preservation Month in cities and towns throughout the United States and internationally.
On May 4, from 10 am to 2 pm, the National Park Service will open four historic structures on the Gettysburg battlefield and the Eisenhower farm to the public for a rare look at buildings ranging from newly restored to those in need of repair. Visitors will be able to explore the Edward McPherson Barn; the Josiah Benner Barn; Meade's Headquarters – the Lydia Leister Home; and the Eisenhower Show Barn.
"Doors Open Gettysburg highlights the park's important historic preservation mission and the stories these buildings can tell," said Kristina Heister, Acting Superintendent, Gettysburg National Military Park. "This event is a great opportunity for our community and park visitors to learn more about Gettysburg and how we take care of these resources."
Edward McPherson Barn:
A landmark on the First Days Battlefield, the barn is the only surviving element of the Edward McPherson Farm. It was used as a field hospital and aide station during and after the fighting. Park along Stone and Meredith Avenue.
Josiah Benner Barn:
 Recently rehabilitated by the National Park Service, this Pennsylvania Bank Barn was occupied by elements of both the Union and Confederate armies on July 1, 1863. Park in the gravel driveway between the Benner House and Barn, Old Harrisburg Road.
Meade's Headquarters - The Lydia Leister Home:
 Home of the widow Lydia Leister and her children, the two-room structure became the Headquarters of the Union Army of the Potomac. General George G. Meade held his famous "Council of War" here on the evening of July 2, 1863. Park in the National Cemetery Parking Lot, or along Hancock Avenue.
Eisenhower Show Barn:
Often the first stop for international dignitaries visiting the Farm, President Eisenhower used his award winning Black Angus cattle to create a friendly atmosphere for conversation with foreign leaders such as Soviet Premier Nikita Khrushchev and French President Charles De Gaulle. Enter from Red Rock Rd and park in the gravel parking lot. 
Please note that the buildings are not wheelchair accessible. No tickets or reservations are necessary for Doors Open Gettysburg. The event is free.
Last updated: April 18, 2019