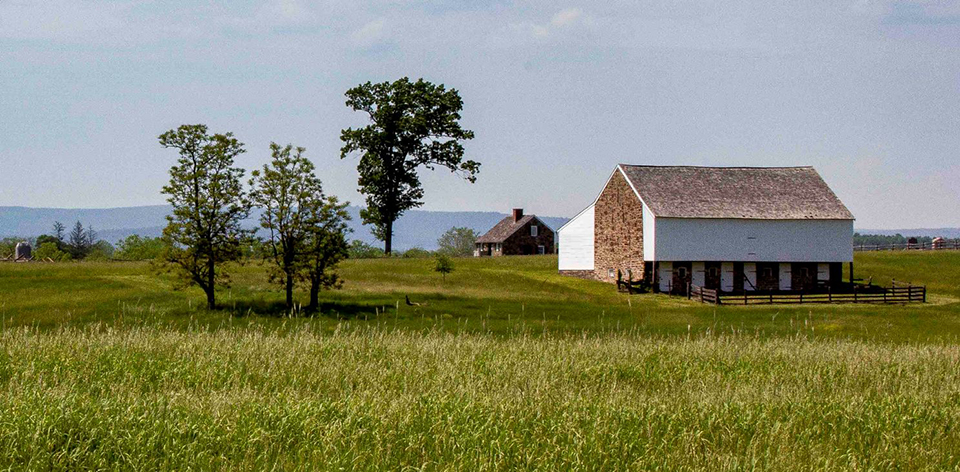 News Release Date:
April 18, 2018
Contact: Katie Lawhon, 717-338-4402
The third annual Doors Open Gettysburg event offers an insider's look at the preservation and history of four of Gettysburg National Military Park's magnificent battlefield structures. This free event is held during National Historic Preservation Month in cities and towns throughout the U.S. and internationally.
On May 5, from 10 am to 2 pm, the National Park Service, in cooperation with the Civil War Trust, will open four historic structures on the Gettysburg battlefield to the public for a rare look at buildings ranging from newly restored to those in need of repair. Visitors will be able to explore the recently restored National Cemetery Lodge; the Edward McPherson Barn; the Jacob Hummelbaugh House; and thanks to the participation of the
Civil War Trust
, the interior of the Mary Thompson House, used by General Robert E. Lee during the battle.
See below for map of the Doors Open locations.
"Doors Open Gettysburg highlights the park's important historic preservation mission and the stories these buildings can tell," said Chris Stein, Acting Superintendent, Gettysburg National Military Park. "This event is a great opportunity for our community and park visitors to learn more about Gettysburg and how we take care of these resources."
Edward McPherson Barn:
 A landmark on the First Day's battlefield and used as a field hospital and aide station. Park along Stone and Meredith Avenue.
Jacob Hummelbaugh House:
 Used as a field hospital and rallying point on July 2, 1863. Confederate General William Barksdale died and was temporarily buried in the yard. Park in designated areas along Pleasanton Avenue. 
The Gettysburg National Cemetery Lodge:
 This recently restored structure served as the original headquarters of the Soldiers' National Cemetery. Park in the National Cemetery Parking Lot on Taneytown Road and walk through the cemetery to get to the gatehouse or park in metered spots along Baltimore Pike.
"Lee's Headquarters" – Mary Thompson House:
Rehabilitated and restored by the Civil War Trust
this famous battlefield landmark was used by Confederate General Robert E. Lee during the battle. Park in the designated lot at Mary Thompson House.
Please note that the buildings are not wheelchair accessible. No tickets or reservations are necessary for Doors Open Gettysburg. The event is free.
Gettysburg National Military Park preserves, protects and interprets for this and future generations the resources associated with the 1863 Battle of Gettysburg, during the American Civil War, the Soldiers' National Cemetery, and their commemorations. Learn more at 
www.nps.gov/gett