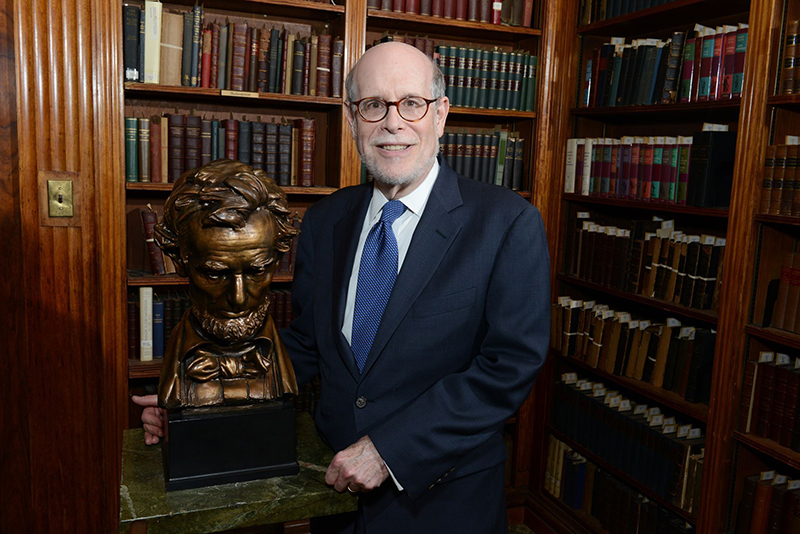 News Release Date:
October 3, 2017
Contact: Stephen Herr, 717-334-5212
Contact: Wendy Allen, 203-770-3421

Harold Holzer, writer, scholar and one of the nation's foremost Lincoln experts, will deliver the Dedication Day keynote address on November 19, 2017, in Soldiers' National Cemetery at Gettysburg National Military Park. When asked to speak at the 154th Anniversary of the Gettysburg Address, Holzer replied,
"I am deeply honored to be asked to stand where Abraham Lincoln stood—and speak from where he spoke—on the hallowed ground at Gettysburg. A lifetime spent studying Lincoln's words and images cannot begin to prepare one for this emotional and intellectual challenge. I can only hope my efforts will fall somewhere between "little noted" and "long remembered," to paraphrase the president to whom we will pay tribute on November 19. Especially because we face such challenging times in modern-day America, I look forward to returning to a town I love very much, and for an event so deeply imbued with historical meaning and national purpose".
On November 19, each year since 1938, the Lincoln Fellowship of Pennsylvania has commemorated Lincoln's Gettysburg Address and rededicated Soldiers' National Cemetery where Lincoln spoke. In the intervening years this annual event has grown and is now co-sponsored by Gettysburg National Military Park, the Gettysburg Foundation and Gettysburg College. It is presented outdoors on the historic rostrum located in the cemetery. The Fellowship's President Rev. Stephen Herr responded,
"The Lincoln Fellowship of Pennsylvania is honored to have Harold Holzer as our keynote speaker for the 2017 Dedication Ceremony," said Herr, "His extraordinary knowledge of Abraham Lincoln, Gettysburg, and the Civil War era guarantees an inspirational keynote address".
Harold Holzer currently serves as the Jonathan F. Fanton Director of Hunter College's Roosevelt House Public Policy Institute and has authored, co-authored, or edited 52 books. Holzer recently received the prestigious 2017 Empire State Archives and History Award from the New York State Archives Partnership Trust. His latest major book, Lincoln and the Power of the Press: The War for Public Opinion, won the Lincoln Prize in 2015. In addition, Holzer has written more than 560 articles and reviews for both popular magazines and scholarly journals, including Smithsonian, Life Magazine, and American Heritage. Holzer served for six years (2010–2016) as Chairman of The Lincoln Bicentennial Foundation. For the previous 10 years he co-chaired the U.S. Abraham Lincoln Bicentennial Commission, appointed by President Clinton. President Bush awarded Holzer the National Humanities Medal in 2008. Holzer is founding vice chairman of the Lincoln Forum, which has met annually in Gettysburg for 21 years.
The anniversary of the Gettysburg Address and the Dedication of the Soldiers' National Cemetery was formally designated as Dedication Day, by a joint resolution of the U.S. Senate and House of Representatives, on November 19, 1946. Over the years, many influential and noteworthy national figures including: Harry Truman, Dwight Eisenhower, Tom Ridge, John Hope Franklin, Shelby Foote, Carl Sandburg, Doris Kearns Goodwin, Stephan Lang, Sandra Day O'Connor, Ken Burns, Stephen Spielberg and others have spoken at the ceremony to help all of us remember Lincoln's words and to rededicate ourselves to the ideals Lincoln conveyed there in 1863.
At 10:00 am, the day's events will begin with the wreath-laying ceremony at the Soldiers' National Monument, followed by the Dedication Day Program at 10:30 am at the rostrum in the Soldiers' National Cemetery, Gettysburg National Military Park. Lincoln portrayer George Buss will recite the Gettysburg Address and the U.S. Citizenship and Immigration Service will hold a naturalization ceremony for citizen candidates.
This event is free and open to the general public. A limited number of seats will be available to the general public, so feel free to bring lawn chairs. Parking for the event is provided at the Gettysburg National Military Park Museum and Visitor Center in Lot #3 with free shuttle service on the Gold Line Shuttle to the Cemetery. The Gold Line will operate from 8:00 a.m. to 6:30 p.m. For more information visit, www.lincolnfellowship.org.
In the event of severe inclement weather, the program will relocate to the Gettysburg College's Majestic Theater, 25 Carlisle Street, Gettysburg, PA.