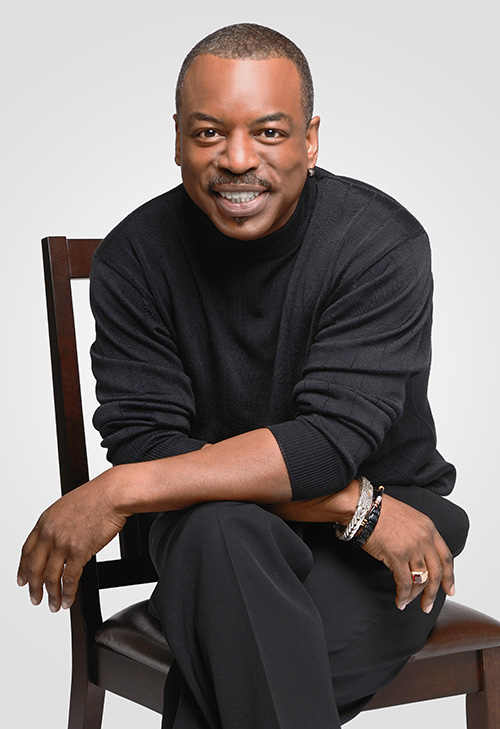 News Release Date:
August 30, 2016
Contact: Tina M. Grim, 717-339-2161
LeVar Burton, actor, director, producer, writer and speaker, will deliver the Dedication Day keynote address on November 19, 2016, in Soldiers' National Cemetery at Gettysburg National Military Park. When asked to speak at the 153rd Anniversary of the Gettysburg Address, Burton responded: "I am both delighted and honored to be this year's Dedication Day speaker. Lincoln is and always will be a towering figure in the story of America and his Gettysburg Address, one of the most enduring and eloquent testimonies to the true purpose of our Democracy."
On November 19, each year since 1938, the Lincoln Fellowship of Pennsylvania has commemorated Lincoln's Gettysburg Address and rededicated the Soldiers' National Cemetery, Gettysburg National Military Park, where Lincoln spoke. In the intervening years this annual event has grown and is now co-sponsored by the National Park Service, the Gettysburg Foundation, and Gettysburg College. It is presented outdoors on the historic rostrum located in the cemetery, near the very site where Lincoln delivered his address in 1863. Stephen Herr, President of the Lincoln Fellowship of Pennsylvania, stated:
LeVar Burton's scope and depth of work, his passion to ignite the love of learning in both children and adults, and his commitment to addressing significant issues in our society all contribute to making him an outstanding selection as the speaker for Dedication Day 2016. The Lincoln Fellowship of Pennsylvania and our partners are honored to welcome Mr. Burton, who has devoted his career to advocating for children's literacy and helping television viewers and movie goers around the world explore challenging issues. We look forward to his voice and perspective on the significance of Lincoln's Gettysburg Address and its meaning in the context of contemporary America culture and life.

Burton, the recipient of 12 Emmy Awards, a Grammy, and 5 NAACP Awards, is perhaps best known for his groundbreaking role of Kunta Kinte in the landmark television series "Roots," and as Chief Engineer Geordi La Forge in the iconic "Star Trek: The Next Generation" television series, and feature films. His most enduring achievement has been as host and executive producer of the beloved PBS children's series "Reading Rainbow" - one of the longest-running children's television shows in history, earning over 200 awards including multiple Emmys and a Peabody. Always committed to improving children's education through innovative uses of storytelling, in 2012 Burton launched RRKIDZ, a digital educational publishing company, with the goal of inspiring a new generation of children to love reading. With over 16 million books and videos enjoyed since its launch, Reading Rainbow is the number one educational app on iTunes and recipient of numerous awards. And, in October 2014, Reading Rainbow published Burton's first children's book, The Rhino Who Swallowed a Storm, a powerful and uplifting story to help children cope with the difficulties of everyday life. 
The anniversary of the Gettysburg Address and the Dedication of the Soldiers' National Cemetery was formally designated as Dedication Day, by a joint resolution of the U.S. Senate and House of Representatives, on November 19, 1946. Over the years, many influential and noteworthy national figures including Harry Truman, Dwight Eisenhower, Tom Ridge, John Hope Franklin, Shelby Foote, Carl Sandburg, Doris Kearns Goodwin, Stephan Lang, Sandra Day O'Connor, Ken Burns, Steven Spielberg, Garrison Keillor, and others have spoken at the ceremony to help all of us remember Lincoln's words and to rededicate ourselves to the ideals Lincoln conveyed there in 1863.
At 9:30 am, the day's events will begin with the wreath-laying ceremony at the Soldiers' National Monument, followed by the Dedication Day Program at 10 am at the rostrum in the Soldiers' National Cemetery, Gettysburg National Military Park. Lincoln portrayer George Buss will recite the Gettysburg Address and the U.S. Citizenship and Immigration Service will hold a naturalization ceremony for citizen candidates. 
This event is free and open to the general public. There will be some chairs available to the general public, so feel free to bring lawn chairs. We also strongly recommend visitors park at the Gettysburg National Military Park Museum and Visitor Center in Lot #3 and take the free Gold Line Shuttle to the Cemetery. The Gold Line will operate from 8:30 am - 6:30 pm. For more information visit www.lincolnfellowship.org.
In the event of severe inclement weather, the program will relocate to the Gettysburg College Union Building Ballroom on West Lincoln Avenue.