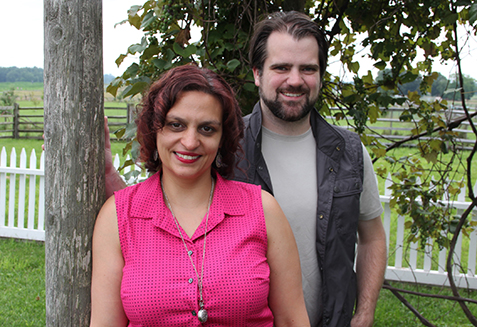 News Release Date:
July 13, 2015
Contact: Katie Lawhon, 717-338-4402
Calling all poets and fiction writers! Gettysburg National Military Park's July "Artists in Residence" are hosting a free, hour-long creative writing workshop on Saturday, July 18, from 11 a.m.to noon, in the tent at Ranger Program Site #2 behind the Gettysburg National Military Park Museum and Visitor Center. The workshop introduces the tradition of American creative writing with an emphasis on researching and composing poems and fiction related to the Civil War.
Gettysburg National Military Park Artists in Residence Michelle Bonczek Evory and Rob Evory will lead the workshop, covering topics such as freewriting, the role of poetic license and the imagination in the writing process, and how to create a personal, individualistic perspective through a persona. After a review of elements such as image and tone, participants will have the opportunity to experiment with the techniques. No experience is necessary. 
To inspire, engage and connect with a new generation of artists, visitors and youth, Gettysburg National Military Park, established an "Artists in Residency" program this summer, hosting leading artists on the Gettysburg battlefield for month-long residencies from July through September. The program was created in cooperation with the non-profit
National Parks Arts Foundation
with the
Gettysburg Foundation
.