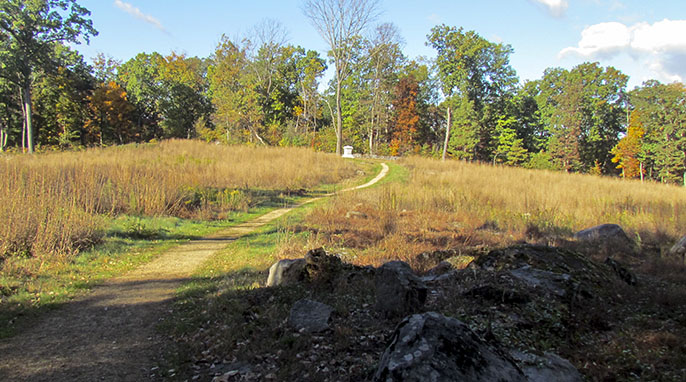 News Release Date:
December 17, 2015
Contact: Katie Lawhon, 717-338-4402
National Park Service seeking comments for the development of a Comprehensive Trails Plan for Gettysburg and Eisenhower Parks
GETTYSBURG. Pa.  – The National Park Service (NPS) proposes to develop a Comprehensive Trails Plan for Gettysburg National Military Park (NMP) and Eisenhower National Historic Site (NHS). The purpose of the Comprehensive Trails Plan is to improve visitor access, convenience, safety, and opportunities for understanding and appreciation of the historic battlefield and the landscape of the Eisenhower site. This project is necessary for the following reasons:
Opportunities to interpret the park landscape more intimately (i.e. outside of a vehicle) should be expanded to improve the visitor experience and understanding of the history of the parks.

During peak visitation there is considerable traffic and tour bus related congestion on the self-guided tour route.

There are safety concerns due to a lack of designated separation between vehicles and pedestrians along paved roadways.

A lack of clearly defined trails and pathways in the park leads to "social trailing" that often results in erosion and degradation of cultural resources.

There is a lack of connections for visitors to access park sites by modes other than vehicles or motorized tours.

Visitors experience wayfinding challenges due to fragmented trail segments, poorly identified pedestrian routes.

Conflicts exist on trails (i.e. equestrian trails) authorized for multiple user groups.

Physical degradation of the park's existing trails results in accessibility challenges to persons with disabilities. The lack of wayfinding and poor delineation of trails limits the ability to enforce temporary trail closures needed for maintenance or resources management. 
The NPS proposes to enhance and expand the trail network so visitors can experience more of the battlefield without vehicles;consider multi-modal uses of commemorative park avenues to improve safety and accessibility;establish additional bike routes;expand opportunities for visitor access to Eisenhower NHS;evaluate hiker/biker shuttle opportunities;and assess the expansion of equestrian trails if inclusion of horses is appropriate to the story of the battle and if resources are not adversely impacted. 
New trails would follow historic alignments such as avenues, lanes, railways (where appropriate), tree lines and fence lines in place at the time of the Battle of Gettysburg. 
The NPS seeks the public's participation in the planning process for the Comprehensive Trails Plan. We are now accepting written suggestions, comments, and concerns regarding the proposal, which can be submitted online at 
https://parkplanning.nps.gov/TrailsPlan
. 
Comments are requested by January 30, 2016. 
PUBLIC OPEN HOUSE - Members of the public are also invited to attend a public open house on Thursday, January 21, 2016 from 6:30 p.m. to 8:30 p.m. at the Gettysburg NMP Museum and Visitor Center, Ford Education Center, 1195 Baltimore Pike, Gettysburg, to learn more about the proposal. The NPS will also be accepting comments at the open house.