Date:
July 30, 2014
Contact:
Katie Lawhon
, (717) 334-1124, ext. 3121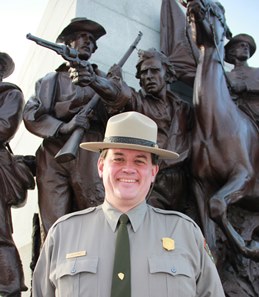 Superintendent Ed W. Clark, Gettysburg National Military Park and Eisenhower National Historic Site, is heading to a four month detail at the National Park Foundation as part of his Department of Interior Senior Executive Service development program. As a candidate for the Senior Executive Service, Clark is required to work on a development assignment outside of the National Park Service. At the National Park Foundation, he will develop and plan National Park Service Centennial initiatives and programs that will take place in 2015 and 2016.  
Rick Kendall, superintendent of Saint-Gaudens National Historic Site in Cornish, New Hampshire, will serve as acting superintendent for Gettysburg NMP and Eisenhower NHS from August 25 until Clark returns mid-December.
Kendall has been superintendent at Saint-Gaudens since 2010. During his superintendency, he has been studying and interpreting the impacts of climate change on park cultural resources and in getting more of the park's extensive museum collection seen by the public through one of the busiest museum loan programs in the National Park Service. He also serves on the core team for the Conservation Study Institute where he has participated in a variety of collaborative planning projects.
Gettysburg National Military Park preserves and protects the resources associated with the Battle of Gettysburg and the Soldiers' National Cemetery and provides an understanding of the events that occurred there within the context of American history. More information is available at www.nps.gov/gett.
Eisenhower National Historic Site preserves and protects the resources associated with the presidential home and farm in order to promote understanding and appreciation of the life, work and times of Dwight David Eisenhower. For more information go to www.nps.gov/eise.