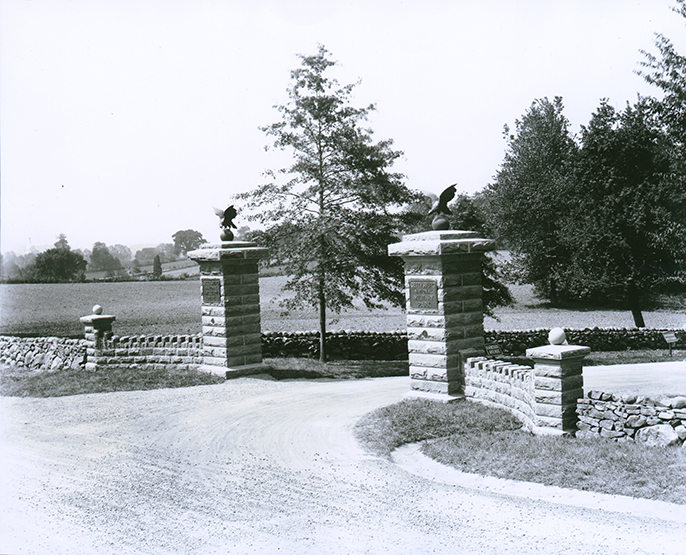 News Release Date:
April 23, 2015
Contact: Katie Lawhon, 717-338-4402
Contact: Cindy Small, 717-339-2109
Gettysburg Receives NPS Centennial Funding for Cemetery Ridge
National Park Service funding for Centennial projects will provide matching funds for a $1.3 million dollar project to rehabilitate Cemetery Ridge at Gettysburg National Military Park. The project will bring back missing features on the historic landscape at the center of the Union Army's battle line and reduce the size of a parking area at Ziegler's Grove. The nonprofit Gettysburg Foundation will provide a grant of $700,000 to match National Park Service funding of $600,000 for this stewardship project.
Historic features on Cemetery Ridge will be returned including: Ziegler's ravine; commemorative walkways; and a portion of historic Hancock Avenue, as well as its ornamental entrance gates at Taneytown Road. The project will also return monuments to their original location before Cyclorama building development, and retain a portion of the parking lot for visitors to the nearby Soldiers' National Cemetery.
"For the first time in more than fifty years, this portion of Cemetery Ridge will have its historic appearance, offering fresh experiences for a new generation of Gettysburg visitors," said Ed Clark, Gettysburg National Military Park Superintendent. "We're excited that this important project has been embraced as a National Park Service Centennial initiative – raising it to a higher level of awareness and visibility."
For six years, the Gettysburg Foundation has funded and implemented important earlier phases of the rehabilitation of Cemetery Ridge including demolition of the Visitor Center in 2009; demolition of the Cyclorama building in 2013; and removal and rehabilitation of the former Visitor Center parking lot site in 2014.
Gettysburg Foundation President Joanne M. Hanley said, "The Gettysburg Foundation has contributed to the rehabilitation of Cemetery Ridge since the inception of the idea to bring back missing features of the battlefield landscapes. It is our intent to concentrate on the work that needs to be done to see this through to the end. We are pleased, grateful and excited for this important project to be a National Park Service Centennial initiative."
NPS CENTENNIAL - To prepare for its Centennial in 2016, the National Park Service is funding legacy projects that will preserve resources for the future. Last month, the National Park Service launched "Find Your Park," a national public awareness and education campaign celebrating the milestone centennial anniversary of the National Park Service in 2016 and setting the stage for its second century of service. Learn more at findyourpark.com
ECONOMIC IMPACT REPORT RELEASED - A new National Park Service (NPS) report shows that 1,020,702 visitors to Gettysburg National Military Park in 2014 spent $62,913,700 in communities near the park. That spending supported 868 jobs in the local area. Eisenhower National Historic Site had 58,239 visitors and provided an economic impact of $3,266,200, supporting 47 local jobs.
"The Gettysburg and Eisenhower parks welcome visitors from across the country and around the world," said Superintendent Clark. "We are delighted that in preserving these special places and sharing their stories, we make a significant contribution to the local economy. National park tourism returns $10 for every $1 invested in the National Park Service. This helps support and sustain our local communities."
Park Unit

Total 
Recreation Visits

Total 
Visitor Spending
($ Thousands)

Jobs

Output ($ Thousands)

Eisenhower NHS

58,239

$3,266.2

47

$4,409.8

Gettysburg NMP

1,020,702

$62,913.7

868

$83,823.0
The peer-reviewed visitor spending analysis was conducted by U.S. Geological Survey economists Catherine Cullinane Thomas and Christopher Huber and National Park Service economist Lynne Koontz. The report shows $15.7 billion of direct spending by 292.8 million park visitors in communities within 60 miles of a national park. This spending supported 277,000 jobs nationally; 235,600 of those jobs are found in these gateway communities. The cumulative benefit to the U.S. economy was $29.7 billion.
According to the 2014 report, most park visitor spending was for lodging (30.6 percent) followed by food and beverages (20.3 percent), gas and oil (11.9 percent), admissions and fees (10.2 percent) and souvenirs (9.9 percent).
To download the report visit https://www.nature.nps.gov/socialscience/economics.cfm. The report includes information for visitor spending at individual parks and by state. To learn more about national parks in state name and how the National Park Service works with Pennsylvania communities to help preserve local history, conserve the environment, and provide outdoor recreation, go to www.nps.gov/pennsylvania.