Date:
September 29, 2010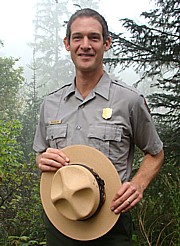 GETTYSBURG, Pa. – Zach Bolitho has been selected as the new Chief of Resource Management for Gettysburg National Military Park and Eisenhower National Historic Site. He returns to Gettysburg from Lewis and Clark National Historical Park in Astoria, Oregon, where he was Chief of Resources.
"Zach will be bringing his special blend of knowledge, experience, and energy to this critical management position for the Gettysburg and Eisenhower parks," said Bob Kirby, Gettysburg National Military Park Superintendent. "He'll be a welcome addition to the staff and the management team."
Bolitho has worked for the National Park Service for more than ten years. His projects at Lewis and Clark NHP included the restoration of a 35-acre tidally influenced wetland, and coordination of an environmental compliance process for the design and development of newly acquired park unit, Station Camp-Middle Village. Until 2009, Bolitho was a natural resource specialist at Gettysburg, planning and implementing landscape rehabilitation projects, managing the white-tailed deer program and working with local farmers to try new conservation practices on the park fields.
"I truly look forward to continuing to build relationships with Gettysburg's local farming community, Gettysburg College, HACC, the NRCS offices, the Gettysburg Foundation and all our friends and park staff," said Bolitho. "To me our national parks will are a place where we define who we were in the past, but more importantly, who we are today and in the future. Gettysburg and Eisenhower are places where we learn, remember, and engage."
Bolitho's first job with the NPS was a Student Conservation Association internship at Craters of the Moon National Monument and Preserve in Idaho, and he also worked on the NPS Exotic Plant Management Team based at Shenandoah NP.
He has a master's degree in Environmental Biology from Hood College in Frederick, MD, a bachelor's in Conservation of Natural Resources from Kent State University, completed a 2-year NPS Mid-level Management Development Program, and volunteered for two years in the Peace Corps in the Solomon Islands.
He will be moving to the Gettysburg area with his wife, Carolyn Davis, also of the National Park Service, and their young daughter, Ada. Davis works with the National Park Service's National Natural Landmarks Program. Bolitho will enter on duty in late November.
For Release: September 28, 2010
Contact: Katie Lawhon
Phone: 717/ 334-1124 x 3121