Date:
January 11, 2013
Contact:
Katie Lawhon
, (717) 334-1124, ext. 3121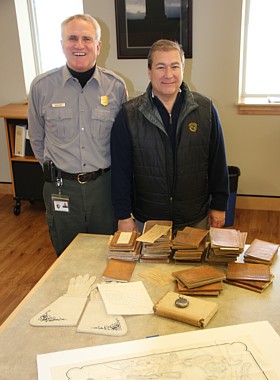 On December 28, 2012, Craig Bashein, a prominent attorney and Civil War collector in Cleveland, Ohio, made a historic donation of artifacts to the Gettysburg National Military Park of rare one-of-a-kind objects and a trove of war time notes and sketches that will offer enormous new opportunities to examine the Battle of Gettysburg and other Civil War battles from 1862 to 1865.
The incredible donation included 64 unpublished sketchbooks, notebooks, other record books and documents created by Emmor Bradley Cope and other staff of the topographical engineers for the Army of thePotomacfrom 1862 through 1865. The sketchbooks and notebooks provided the information necessary to help the generals understand the topography, obstacles, and the nature of the towns and countryside where these battles were occurring. A number of the 1863 sketchbooks contain hand-drawn topographical sketches, created from horseback primarily by Cope, of the Gettysburg Battlefield ordered by General George Gordon Meade from August to October 1863. Cope later became the first superintendent ofGettysburg National Military Park. 
In addition, the Bashein donation included: 

Vast collection of personal items of General Alexander S. Webb, who was awarded the Medal of Honor for gallantry and bravery at Gettysburg during Pickett's Charge. The Webb collection includes Gettysburg related artifacts, an inscribed medal presented by General George Gordon Meade for his meritorious service "on that ever memorable field of Gettysburg," Webb's pistol, Hardee hat and field binoculars.
Battlefield Map of Gettysburg by Captain J.D. Briscoe, an aide to General David Bell Birney - a detailed map with hand drawn annotations of troop positions, inscribed by General Birney that was used to accompany his testimony on the Battle of Gettysburg to the Committee on the Conduct of the War held in the early spring of 1864. This map is believed to be one of the first battlefield maps of Gettysburg ever prepared.
The archive of David Kendlehart, Chief Burgess of Gettysburg during the Battle, including a demand note written by Confederate General Jubal Early, making demands of the town of Gettysburg prior to the battle, and other Gettysburg related materials, and documents.
Civil War Cavalry Gauntlets of General Philip Sheridan, manufactured by Schuyler, Hartley and Graham later given by Sheridan to Captain Augustus Paul. Accompanied by an original letter of provenance dated October 25th 1892.
Engraved Coin Silver Pocket Watch of Union General-in-Chief Henry W.Halleck presented his Staff Officers.