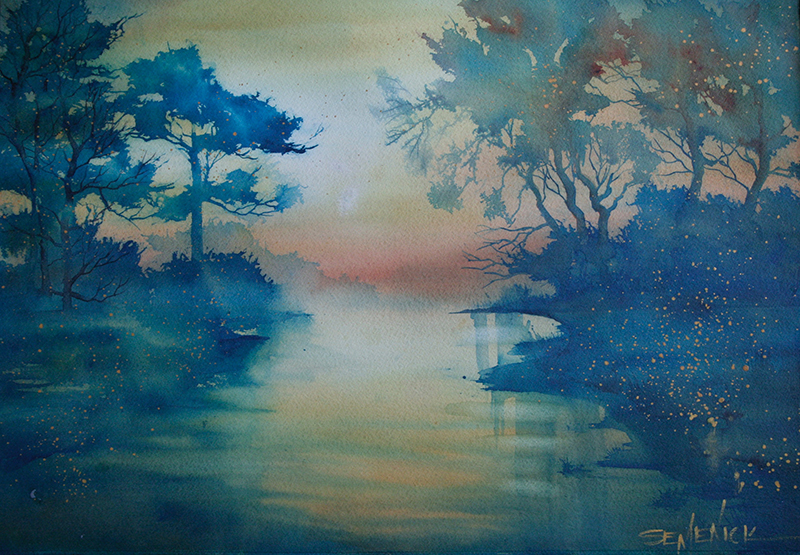 News Release Date:
October 10, 2017
Contact: Katie Lawhon, 717-338-4402
Pennsylvania native and painter Susan Semenick is Gettysburg National Military Park's new artist-in-residence, beginning in mid-October. Her extensive background in landscape painting has made her an obvious choice for residency at Gettysburg, in whose hallowed and beautiful fields she played as a child. She's been a finalist for Watercolor Magazine's American Artists cover competition, and previously served as an Artist-in-Residence at Crater Lake National Park in Oregon.
Semenick will present a program on Friday, November 3, from 2 pm - 5 pm at the Gettysburg National Military Park Museum and Visitor Center. The public is invited to watch Semenick while she composes and creates a painting of a living historian dressed as a Civil War surgeon. The model will be posed in the museum rotunda, and the work will be done in front of visitors. Semenick will have some of her previous paintings on display and will answer questions and talk about her work.
There is no fee for this program which has been moved from the David Wills House to the Gettysburg National Military Park Museum and Visitor Center, 1195 Baltimore Pike, Gettysburg, PA.
Semenick was born into art; indeed, her mother was herself an artist, and inspired Semenick to create art from an early age. Now, after a long career, Semenick still looks back fondly at her time as a little girl, watching and admiring her mother's capable hands. While Semenick's first love was art, her second was science. She was torn between pursuing an art major or one in biology while in college, and though the art faculty tried their best to change her mind, Semenick ended up completing her Bachelor's Degree, and later her Master's, in biology - a subject she taught for 33 years. After Semenick retired from teaching, she opened her own art gallery in central Indiana, and served as a board member at the prestigious Stutz Artists' Association.
Programs like Gettysburg National Military Park's artist-in-residence series, in which acclaimed artists find inspiration from the beauty and history of our national parks, and agree to share their ideas with park patrons, represent some of the highest aspirations of the National Park Service.
"Gettysburg National Military Park has offered inspiration to artists for more than 150 years," said Chris Gwinn, Chief of Interpretation and Education at Gettysburg National Military Park. "The Artist-in-Residence program continues the tradition begun by artists like Alexander Gardner, Alfred Waud, and Gutzon Borglum, while simultaneously engaging our visitors and telling this story in new and compelling ways." 
The program is offered thanks to the input and support of the National Park Service and the
Gettysburg Foundation
and the partnership with the
Poetry Foundation
, whose joint efforts make the park the foremost visitor destination for those interested in the epic history of the American Civil War.
Gettysburg National Military Park preserves, protects and interprets for this and future generations the resources associated with the 1863 Battle of Gettysburg, during the American Civil War, the Soldiers' National Cemetery, and their commemorations. 
The
National Parks Arts Foundation
is a 501(c)3 non-profit dedicated to the promotion of the National Parks of the U.S. by creating dynamic opportunities for artworks that are based in our natural and historic heritage. This project is supported by the Gettysburg Foundation and other generous benefactors. All NPAF programs are made possible through the philanthropic support of donors ranging from corporate sponsors and small businesses, to art patrons and citizens- lovers of the parks.