News Release
Winter Programming at Gettysburg National Military Park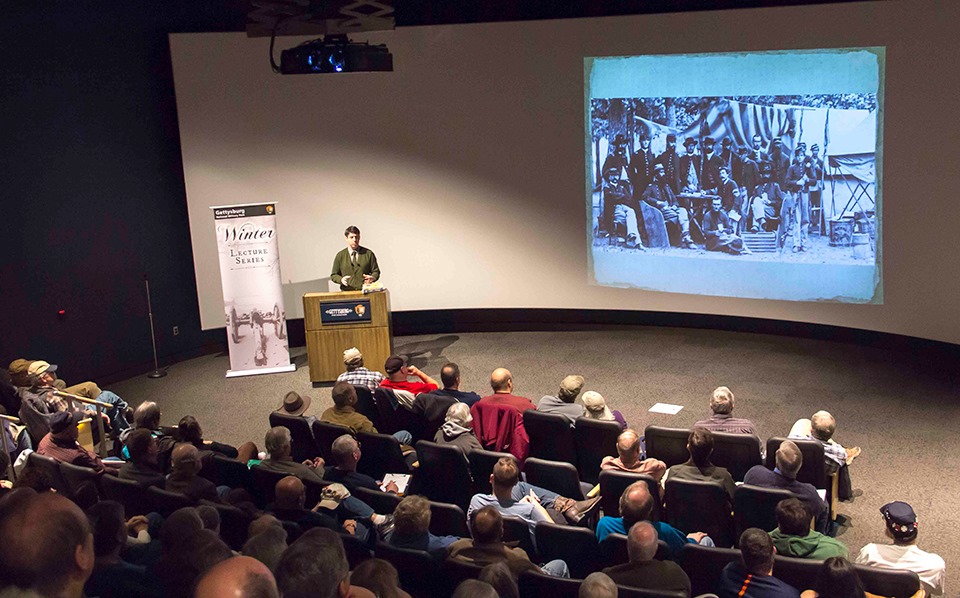 News Release Date:
December 15, 2022
Contact: Chris Gwinn
Gettysburg, PA – Gettysburg will continue its popular Winter Lecture Series. Featuring some of the best National Park Service rangers and historians from across the region, this 10-week series of hour-long talks will examine a wide array of subjects related to the American Civil War and Gettysburg history including archeology at Little Round Top, the early life of Robert E. Lee, the fighting on Culp's Hill, and compelling research on Lincoln at Gettysburg. These lectures illuminate the different events and personalities of this pivotal chapter in American history. The Winter Lecture Series is held at 1:30 pm on weekends from January 7 through February 26, 2023, in the Gettysburg National Military Park Museum and Visitor Center. Free tickets will be available on the day of the program a first come, first serve basis.

For those unable to attend in person, select lectures will be live streamed to the Gettysburg National Military Park YouTube page at www.youtube.com/GettysburgNPS. For more information, and a full list of all programs, visit the park website at https://go.nps.gov/GettysburgWinterPrograms.

Gettysburg National Military Park will also start the new year with engaging and inclusive family events. Beginning Saturday, January 7 through March 25, there is no better place to spend the weekends than at the Gettysburg National Military Park Museum and Visitor Center for fun family programming. Family programming includes:

The History Kids Reading Adventures Club, for families with children ages 4-10, returns this year with a Superheroes of History theme; books will focus on such famous people as Abraham Lincoln, Harriet Tubman, Jane Goodall, Neil Armstrong, and many others. Each Saturday morning at 11 am in January and February, families can join a park educator to hear a new book, with pages projected onto the movie screen, and then participate in a related indoor or outdoor family-led adventure. This reading program teaches budding historians about important events and important people in history with a focus on the Civil War era.

For older students of history, Gettysburg National Military Park will also host a new Reading Adventures program – the Time Travelers Club. Recommended for children ages 10-14, Time Travelers will be reading and discussing The Not So Boring Letters of Private Nobody, by Matthew Landis. This is the story of twelve-year-old Oliver--who is obsessed with studying the Civil War--who is partnered with Ella--who is not--for a class history project as they undertake research of a soldier who served in the Civil War. This program will be held each Saturday in March at 11 am in the Ford Education Room at the Gettysburg National Military Park Visitor Center.  

All events are free of charge. For more information on these and other family focused programming at Gettysburg National Military Park, please visit: nps.gov/gett or email e-mail us.  
Last updated: December 15, 2022