News Release
Winter Programs at Gettysburg National Military Park include Winter Lectures and Reading Adventures for Families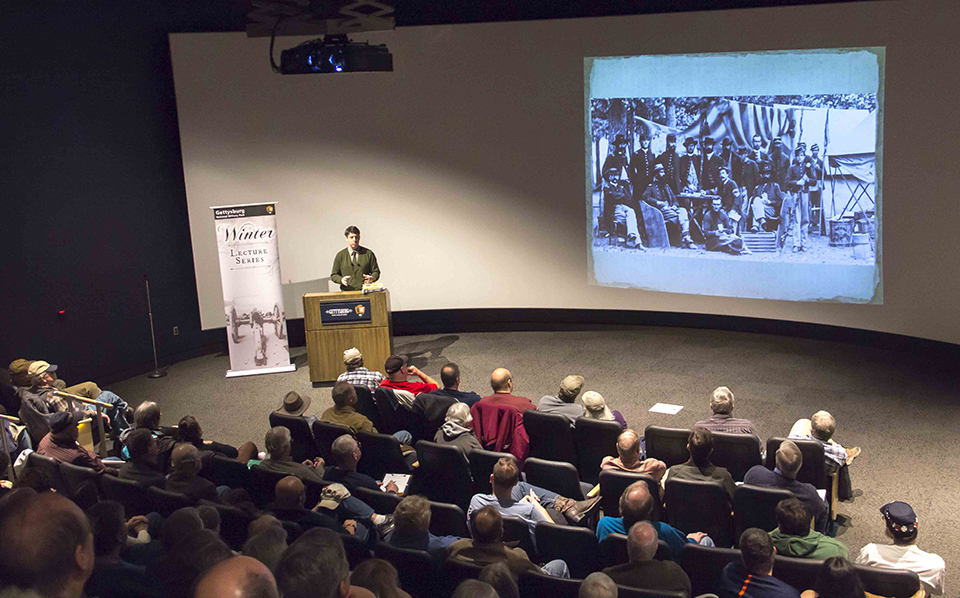 News Release Date:
November 26, 2019
Contact: Christopher Gwinn
Winter is a great time to visit and explore Gettysburg National Military Park. On January 4, the park's winter programs begin. This year Gettysburg National Military Park is offering the popular lecture series as well as reading adventures program for children ages 4 to 10 and their families. These free programs run January through March at the Gettysburg National Military Park Museum and Visitor Center.

Winter Reading Adventures begins January 4 and runs every Saturday through February 29 at 11:00 a.m. This year's selection will focus on important people and events of the American Civil War era. Stories include I Am Abraham Lincoln by Brad Meltzer, Henry's Freedom Box! by Ellen Levine , and The Legend of Old Abe  by Kathy-jo Wargin , among others. "The Winter Reading Adventures program is for kids who love to read, parents who want their kids to love to read, and for budding history buffs everywhere!" explained the park's education specialist, Barbara J. Sanders.

Additionally Gettysburg will continue its popular Winter Lecture Series. Featuring some of the best National Park Service rangers and historians from across the region, the 11-week Winter Lecture Series of hour-long talks will examine a wide array of subjects related to the American Civil War and Gettysburg history. Topics include the Army Mule, World War II burials in the National Cemetery, the fighting on Culp's Hill, the domestic slave trade, and many more. These lectures help illuminate the different events and personalities of this pivotal chapter in American history. The Winter Lecture Series is held at 1:30 p.m. on weekends in the Gettysburg National Military Park Museum and Visitor Center from January 11 through March 22, 2020. Limited seating is available on a first come – first serve basis.
Last updated: November 26, 2019