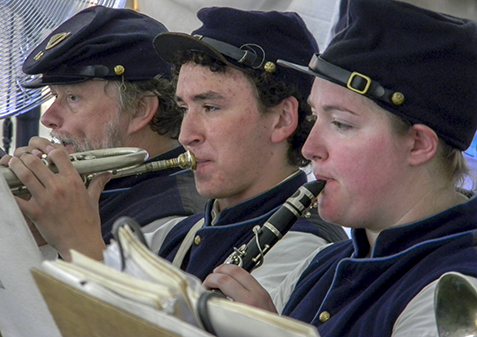 News Release Date:
July 16, 2015
Contact: Evangelina Rubalcava-Joyce , (717) 338-4433
Performances by respected and authentic Civil War musicians will fill the air on August 14 and 15 at Gettysburg National Military Park during the 20th Annual Gettysburg Music Muster. These one-of-a-kind performances, played mainly on original instruments, include ballads, Victorian dance music and dance performances, along with fifes, banjo, mandolin, and more.
The Gettysburg Music Muster features performances by the Susquehanna Travellers who will be performing with the Victorian Dance Ensemble. The Victorian Dance Ensemble will call and perform several dance numbers in Victorian dress. Their grand finale will include audience participation. The 46th Pennsylvania Regiment Band, a 12 member band, will also perform, as will David Kincaid and the 77th New York Regimental Balladeers. 
The Irish Volunteers Civil War Band from Western New York will return for their fifth year. Though all four members have long backgrounds in Folk and Celtic Music, they have been performing Civil War era music since 2007. The Libby Prison Minstrels from Richmond, VA, who take their name from the infamous Civil War prison, are also returning. They represent a musical group that managed to purchase instruments from the "outside" and put on shows that were a respite from the hardships of prison life. 
Steve Ball, a solitary performer from Columbus, OH, will perform songs from the 19th century both before and during the Civil War. The Fort Delaware Cornet Band, a seven member band from Alloway, NJ, will perform authentic Civil War era brass and percussion music. 
New to the lineup this year will be the Camptown Shakers. Playing on instruments of the era including gut-strung fretless banjos, rhythm bones, fiddle and tambourine, they perform 18th century jig and other pieces. From Fredericksburg, VA, the muster welcomes Marshall and Company Music, with Doug Marshall and Tina Buchannan playing parlor music, representing the people of the town who gathered to play music and sing songs in the hot summers during the Civil War. Doug Jimerson, an American concert tenor and musicologist, will perform historical and patriotic tunes. His performances vary from Stephen Foster to Beethoven.  
Events begin at noon on August 14 in the tent in front of the Gettysburg National Military Park Museum & Visitor Center. The Libby Prison Minstrels are the opening act, followed by Steve Ball at 1 p.m., Susquehanna Travellers at 2 p.m., the Irish Volunteers at 3 p.m., David Kincaid at 4 p.m. and the Camptown Shakers will close out the Friday performances at 5 p.m. 
On August 15, performances will begin at 9 a.m. in the tent in front of the Gettysburg National Military Park Museum & Visitor Center and continue until 4:45 p.m. Most of the musicians will also perform at the Dobbin House Restaurant Courtyard on Steinwehr Avenue from 10:30 a.m. until 4 p.m. A Grand Finale Performance will begin at 5 p.m. from the Pennsylvania Memorial, Auto Tour Stop #12 until sundown.  
The public is invited to attend all performances free of charge. The public is encouraged to bring lawn chairs or blankets for seating. For a
full schedule of performances
or for more information, call (717) 334-1124 x 4468.