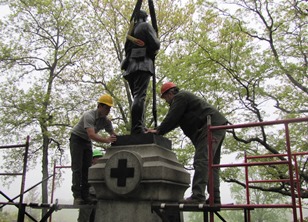 News Release Date:
May 7, 2013
Contact: Katie Lawhon, (717) 334-1124, ext. 3121
Earlier today on northwest the slope of Little Round Top, Gettysburg National Military Park monument preservation staff reset the life-size bronze infantry figure from the 121st New York Volunteer Infantry Regiment monument onto its pedestal. A tree fell on the monument and damaged it during the Halloween snowstorm of 2011. The base of the sculpture was bent and park staff removed it and pressed it back into shape. Park staff also waxed and cleaned the bronze figure. The monument is located on the west side of Sykes Avenue, northwest of the summit of Little Round Top.
The 121st New York Infantry regiment served in the "Army of the Potomac" from 1862 to 1865 and was made conspicuous by the leadership of its brilliant colonel, Emory Upton. The regiment occupied the north slope of Little Round Top on July 2, 1863, after completing a 35-mile march with the rest of the Sixth Army Corps to reach the Gettysburg battlefield.
The monument to the 121st New York Infantry was dedicated by veterans and friends of the regiment in 1889.