Insects, Spiders, Centipedes, Millipedes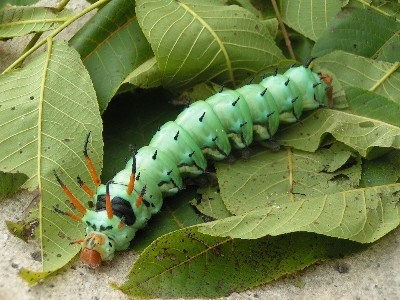 Invertebrates are the most numerous and diverse animals on Earth of whose species comprise about 98 percent of the animals in the animal kingdom. Invertebrates occupy important places in the food web as primary and secondary consumers and also decomposers. Invertebrates also have value ranging from the role of earthworms in the fertilizing and aerating of soil to the task of pollinating flowers undertaken by honeybees, butterflies, and moths. Considering all these facts, it is hard to understand why such insects and spiders are so underrated and feared by many people.
In 1999, butterfly and arthropod inventories at Gettysburg NMP were conducted in cooperation with Penn State University. For butterfly collection, suitable habitat was determined and collection sites were based on the availability of nectar sources and shelter. The park provides important habitat to butterflies in the form of mixed farmland and forest landscape. Butterfly specimens were collected and identified by taxonomists who identified a total of 38 butterfly species in the park. On a warm day, visitors to the park will be able to observe some of these species such as tiger swallowtails, spring azures, or monarchs drifting among the flowers and grasses.
For the 1999 study, terrestrial arthropods were collected at wooded sites of Big Round Top, Plum Run area, and Codori-Trostle Thicket. Samples contained much insect biodiversity but flies, ants, bees, mites, and beetles were the most prominent specimens. Through the study seven new species known to science and at least one new genus of Diptera (flies) were also discovered.
Last updated: February 26, 2015