Devil's Den
Devil's Den Rehabilitation Project
Devil's Den reopened to the public on Friday, September 30, 2022.

Read our Press Release.

The rehabilitation of Devil's Den addressed significant erosion and safety issues in this highly visited area of the battlefield. Devil's Den was closed for six months.

This project was necessary due to significant erosion along existing walkways and unauthorized social trails that created safety hazards. The scope of the project reestablished, preserved, and protected the features that make up this segment of the battlefield landscape. These improvements will allow visitors to better immerse themselves into the historic landscape that is essential to understanding the three-day Battle of Gettysburg.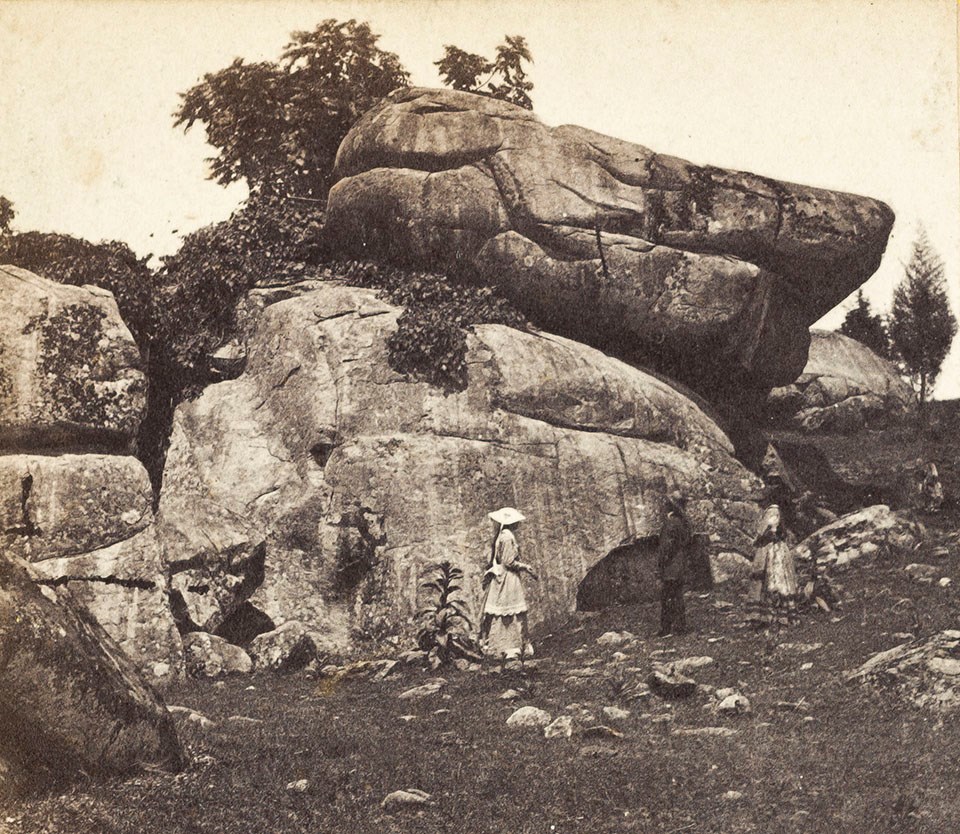 Timeline

March 21, 2022
Devil's Den closed to the public. The construction contractor has placed fencing around the site.
March 30
Granite steps delivered. Concrete steps removed.
April 7
Granite steps installed on west stairways.
April 14
Granite steps installed on east stairways.
April 21
Grading trail system. De-compact social trails.
April 28
Concrete framework installation for new pathways.
May 5
Pouring aggregate concrete for new pathways.
May 12
Pouring aggregate concrete for new pathways.
May 19
Pouring aggregate concrete for new pathways.
June 16
Park and contractor working through quality control list.
July 21
Park still working on boulder to sidewalk tie-in material.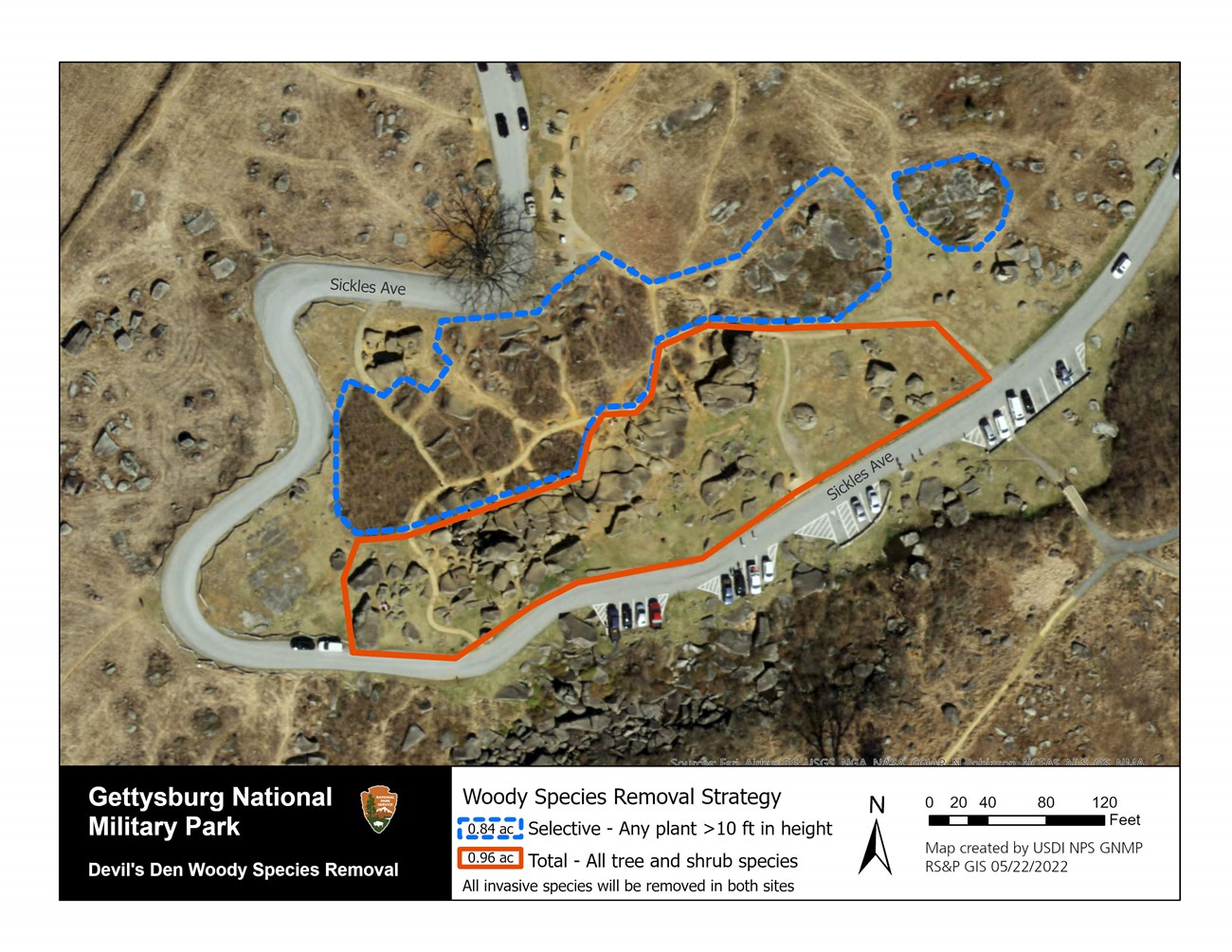 August 12
Vegetation management begins. The primary goal of this phase of the project is to remove vegetation to better reflect 1863 conditions. This phase of the project will be completed in stages.
Stage 1 will remove woody species from the rocky outcroppings and upper trail portion of Devil's Den. This includes removal of all tree and shrub species within an area of about one acre (see red outline on map).
Stage 2 will remove and chemically treat all invasive plant species.
Stage 3 will remove any remaining vegetation from Stage 2 once native grasses have established. This process may take up to two growing seasons from the initial planting – up to 2024. In the interim all non-native vegetation will continue to be treated within the entire project area.

August 17
Stage 1 vegetation management concludes.

September 24
National Public Lands Day: Volunteers helped us remove woody vegetation from the summit of Devil's Den in preparation to reopen the site.

September 30
Devil's Den reopens to the public. Read our Press Release.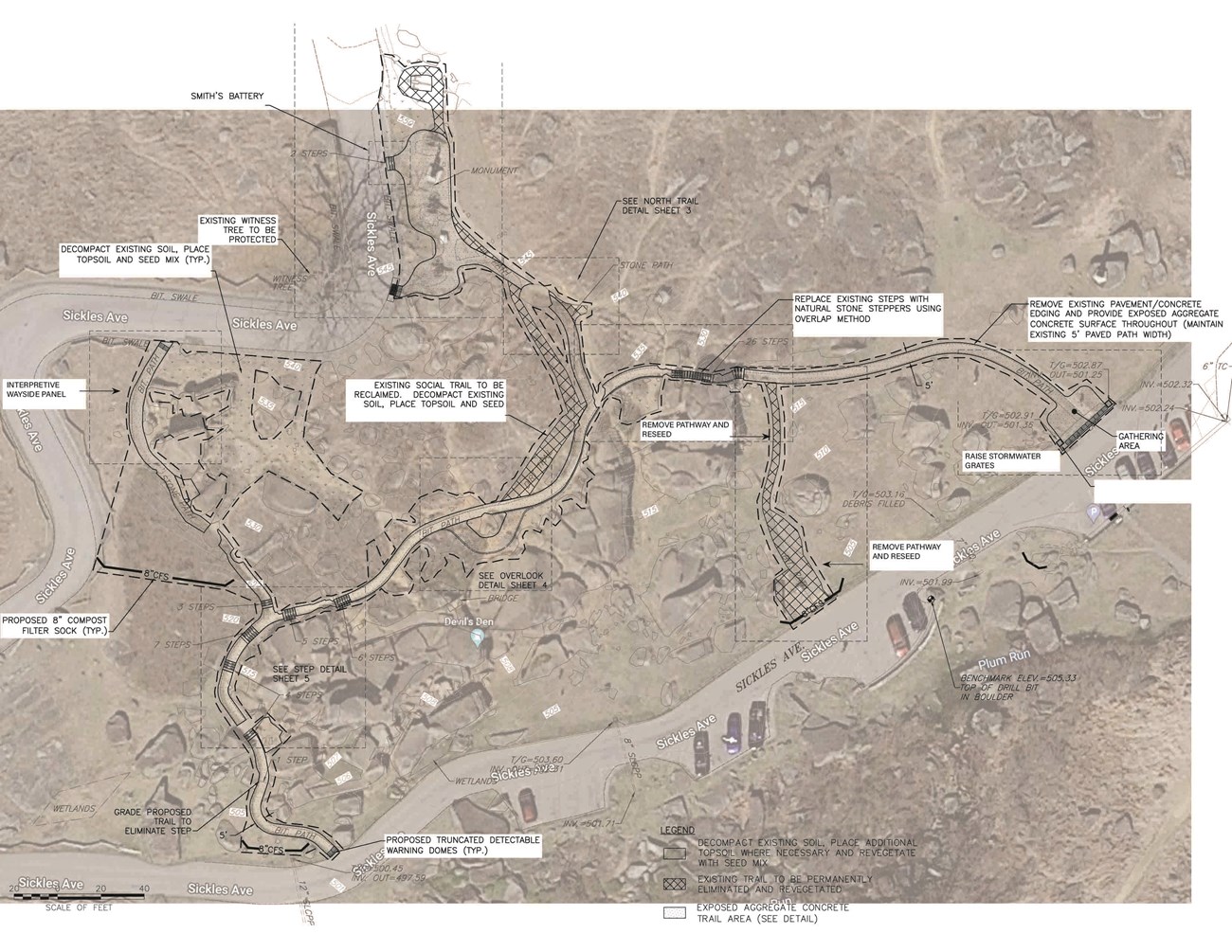 Project Facts

Trail surface (before rehabilitation project)
Trail surface (after rehabilitation project)
5,815 square feet (1.2% decrease)

ADA (Americans with Disabilities Act) Trail surface (before rehabilitation project)
ADA (Americans with Disabilities Act) Trail surface (after rehabilitation project)
2,200 square feet (214% increase)
Last updated: August 2, 2023