Commemorative Works and Plaques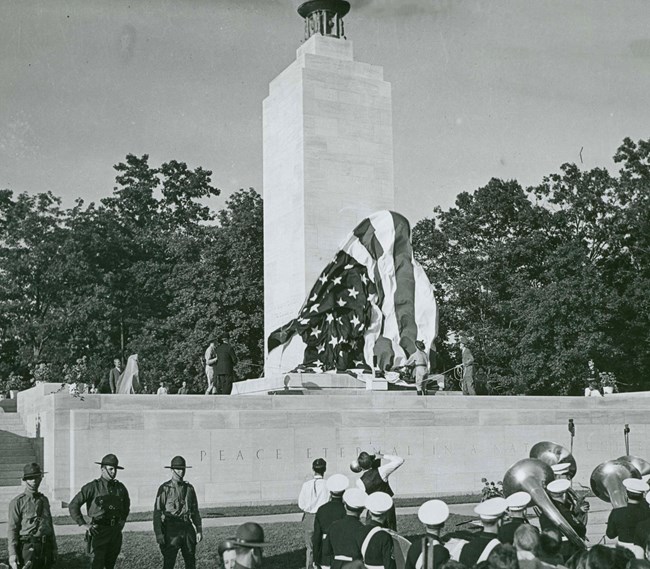 9.6.1 General
For the purpose of this section, the term "commemorative work" means any statue, monument, sculpture, memorial, plaque, or other structure or landscape feature, including a garden or memorial grove, designed to perpetuate in a permanent manner the memory of a person, group, event, or other significant element of history. It also includes the naming of park structures or other features—including features within the interior of buildings. Within the District of Columbia and its environs, the Commemorative Works Act prohibits the establishment of commemorative works unless specifically authorized by an act of Congress. Outside of the District of Columbia and its environs, commemorative works will not be established unless authorized by Congress or approved by the Director (36 CFR 2.62). The consultation process required by section 106 of the National Historic Preservation Act must be completed before the Director will make a decision to approve a commemorative work.

To be permanently commemorated in a national park is a high honor, affording a degree of recognition that implies national importance. At the same time, the excessive or inappropriate use of commemorative works—especially commemorative naming—diminishes its value as a tool for recognizing people or events that are truly noteworthy. This situation can also divert attention from the important resources and values that park visitors need to learn about. Therefore, the National Park Service will discourage and curtail the use and proliferation of commemorative works except when
Congress has specifically authorized their placement; or
there is compelling justification for the recognition, and the commemorative work is the best way to express the association between the park and the person, group, event, or other subject being commemorated.

In general, compelling justification for a commemorative work will not be considered unless
the association between the park and the person, group, or event is of exceptional importance; and
in cases where a person or event is proposed for commemoration, at least five years have elapsed since the death of the person (or the last member of a group), or at least 25 years have elapsed since the event. (Within the District of Columbia and its environs, refer to the Commemorative Works Act for more specifi c requirements.)

Simply having worked in a park, or having made a monetary or other type of donation to a park, does not necessarily meet the test of compelling justification. In these and similar cases other forms of recognition should be pursued.

With regard to the naming of park structures, names that meet the criteria listed above may be approved by the Director. Names that do not meet those criteria will require legislative action. All donor recognition must be consistent with Director's Order #21: Donations and Fundraising. In accordance with Director's Order #21, the naming of rooms, features, or park facilities will not be used to recognize monetary or in-kind donations to a park or to the National Park Service.
9.6.2 Interpretive Works That Commemorate
The primary function of some commemorative works— most often in the form of a plaque presented by an outside organization—is to describe, explain, or otherwise attest to the significance of a park's resources. These devices are not always the most appropriate medium for their intended purpose, and their permanent installation may not be in the best long-term interests of the park. Therefore, permanent installations of this nature will not be allowed unless it can be clearly demonstrated that the work will substantially increase visitors' appreciation of the significance of park resources or values, and do so more eff ectively than other interpretive media.

With regard to Civil War parks, new commemorative works will not be approved, except where specifically authorized by legislation. However, consideration may be given to proposals that would commemorate groups that were not allowed to be recognized during the commemorative period.

In those parks where there is legislative authorization to erect commemorative works, superintendents will prepare a plan to control their size, location, materials, and other factors necessary to protect the overall integrity of the park.

The plan may include a requirement for an endowment to cover the costs of maintaining the commemorative work.
9.6.3 Approval of Commemorative Works
Before being approved, a determination must be made, based on consultation with qualified professionals that the proposed commemorative work will
be designed and sited to avoid disturbance of natural and cultural resources and values;
be located in surroundings relevant to its subject;
be constructed of materials suitable to and compatible with the local environment;
meet NPS design and maintenance standards;
not encroach on any other preexisting work or be esthetically intrusive;
not interfere significantly with open space and existing public use;
not divert attention from a park's primary interpretive theme; and
not be affixed to the historic fabric of a structure.

The Director may order the removal or modification of commemorative works that were installed without proper authorization, or that are inconsistent with the policies in this section. Temporary forms of in-park recognition, and permanent forms that will not be installed within park boundaries, do not require the Director's approval.

The naming of geographic features is subject to approval by the U.S. Board on Geographic Names. NPS proposals for naming geographic features will follow the procedures described in Director's Order #63: Geographic Names.

(Also see Director's Order #67: Copyright and Trademarks; U. S. Board on Geographic Names "Principles, Policies, and Procedures: Domestic Geographic Names")
9.6.4 Preexisting Commemorative Works

Many commemorative works have existed in the parks long enough to qualify as historic features. A key aspect of their historical interest is that they reflect the knowledge, attitudes, and tastes of the persons who designed and placed them. These works and their inscriptions will not be altered, relocated, obscured, or removed, even when they are deemed inaccurate or incompatible with prevailing present day values. Any exceptions from this policy require specific approval by the Director.
9.6.5 Donated Commemorative Works
Although commemorative works and other forms of in-park permanent recognition will not be used to recognize monetary contributions or other donations to a park or the Service, there may be occasions when an authorized or approved commemorative work will be offered or provided by a private donor. Placing donor names on commemorative works will be discouraged. If they do appear, donor names will be conspicuously subordinate to the subjects commemorated. Donations of commemorative works should include sufficient funds to provide for their installation, and an endowment for their permanent care.

(See Nonpersonal Services 7.3.2; Cemeteries and Burials 8.6.10. Also see Director's Order #64: Commemorative Works and Plaques)
9.6.6 Commemorative Works in National Cemeteries
Regulations governing commemorative works associated with national cemeteries are found in 36 CFR Part 12; and Director's Order #61: National Cemetery Operations.


---
Last updated: August 23, 2023