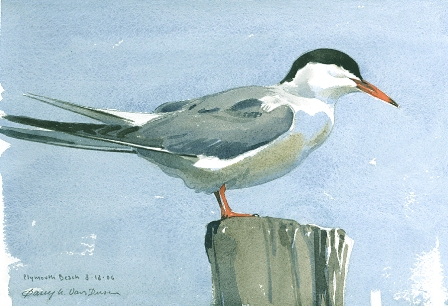 News Release Date:
June 24, 2010
Contact: Julia Clebsch, 718-318-3482
On Sunday, June 27, 2010, Gateway National Recreation Area will unveil "Inspired By Birds," an exhibit of paintings by two renowned wildlife artists, from 3-5 PM at the Jamaica Bay Wildlife Refuge Visitor Center. Artists Barry W. Van Dusen and Michael DiGiorgio will attend. Their work will be on display through September 2010.
Van Dusen, an internationally recognized wildlife artist, has illustrated many publications for the Massachusetts Audubon Society. His bird illustrations have appeared in books published by the American Birding Association, HarperCollins, Princeton University Press and Cornell University (Comstock). His paintings have been featured in Bird Watcher's Digest, Birder's World, Birds Illustrated (U.K.), Wildlife Art and Yankee magazines.
Van Dusen was elected a full member of Britain's Society of Wildlife Artists in 1994 and contributes annually to their London exhibition. His paintings appear regularly in the prestigious BIRDS IN ART show and in the Art of the Animal Kingdom at the Bennington Center for the Arts. In 2007, Van Dusen was chosen to create the UK Habitat Conservation Stamp, the British counterpart to the US Federal Duck Stamp. He was the first American to be so honored. 
At the invitation of the Artists for Nature Foundation, Van Dusen has traveled to Spain, England, Ireland, India, Peru and Israel and worked alongside other wildlife artists to raise funds for conservation of threatened habitats.
Michael DiGiorgio is a nationally recognized artist whose painting style reflects his observations in the field. Mike's paintings and drawings have appeared in a variety of books and journals, including: Birds of Brazil Field Guide Series; The Breeding Bird Atlas of Connecticut; Master's Guide to Birding; Audubon Field Guide to Birds (Eastern and Western Regions).
DiGiorgio begins his artwork in the field, sketching birds, plants and habitat in the western United States, the West Indies and the Outer Islands of Britain. He is currently illustrating plates for the publication South America Vol. III.
In October 2004, DiGiorgio won the first ever endowment award from the Academy of Natural Sciences in Philadelphia for recognition of his bird illustration work. His paintings have been exhibited at several museums and art expositions, including the Bennington Center for the Arts, Museum of the Hudson Highlands, Old Lyme Arts Academy and the Wesleyan University Art Gallery and Pegasus Gallery.