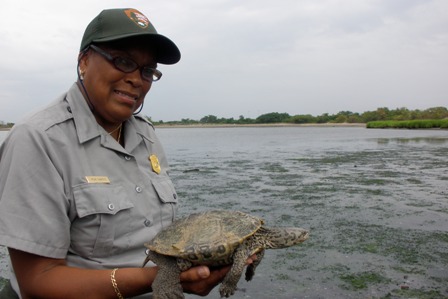 News Release Date:
July 27, 2010
Contact: Jennifer Wolff, 718-338-4306
Counting osprey chicks, saving diamondback terrapins and sweeping for insects are all in a day's work and adventure for Nena Shaheed. Shaheed has been keeping busy at Gateway National Recreation Area since she started work on June 23, 2010, as part of the National Park Service's Teacher-Ranger-Teacher program.
Shaheed is no stranger to the program.  In the summer of 2009, she donned a ranger flat hat at Acadia National Park in Maine. There she assisted with visitor programs covering subject matter in astronomy, geology and botany. "Acadia National Park and Gateway National Recreation Area are very similar in the fact that they are located along the eastern seaboard of the United States and protect a mosaic of freshwater, estuarine and marine resources," Shaheed observed. "This program has taught me about plants, wildlife and their natural habitats and what we can all do to protect their survival. In a metropolitan area like New York City, it is amazing to see osprey, diamondback terrapin turtles and prickly pear cactus, within range of city streets and skyscrapers."
"The skills and knowledge I have acquired as a teacher ranger will be integral with lesson plan development for the various science courses I teach at Pacific High School in Brooklyn, New York," said Shaheed. She looks forward to integrating her experiences as a park ranger into her forensic science, earth science and horticulture classes.
The Teacher-Ranger-Teacher program provides opportunities for teachers to connect to the resources in a national park. The program geared for teachers from schools with a high percentage of students from low-income families who have little or no experience with national parks or limited resources to discover the treasures of our parks.
During the school year, Teacher Rangers develop and present curriculum-based programs to their students based on their summer experience at the park. In April, during National Park Week, Teacher Rangers wear their NPS uniforms to school, share their park stories and teach about our nation's natural and cultural treasures.
The program began in 2003 in Colorado and became a nation-wide program in 2007.
Shaheed noted, "Some of my students have never left Brooklyn let alone visited a national park. I think giving them the opportunity to explore Gateway would help spark an interest in connecting to nature and help broaden the view beyond their world."