Superintendent Barry Sullivan Retires
Date:
June 10, 2010
Contact:
Jane Ahern
, 718-354-4607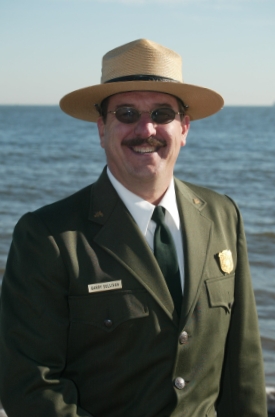 Barry Sullivan, superintendent of Gateway National Recreation Area, has announced his retirement after a 34-year career with the National Park Service.
"I feel privileged to have served in seven of our nation's greatest treasures, and even more privileged to have served side by side with some of the finest men and women on earth," said Sullivan.
During Sullivan's six year tenure at Gateway NRA he led the general management planning effort, oversaw the park's reorganization, and helped secure funding for numerous park projects, including the restoration of the Ryan Visitor Center at Floyd Bennett Field, the rehabilitation of the Jamaica Bay Wildlife Refuge's LEED-certified visitor center in Brooklyn, the expansion of the Sandy Hook (NJ) Multiple Use Path, and the cleanup of residual radiation at Great Kills Park in Staten Island.
Sullivan chaired the NPS' Northeast Region Ocean Park Task Force, served on the Northeast Region's Climate Change Task Force and the New York City Climate Change 2030 Committee. He also served on the Secretary of the Interior's Climate Change Committee, co-authoring their Land and Water Management Committee Report.
"Over the past several years, Barry has been a leader in the National Park Service Northeast Region's efforts on both the climate change and ocean initiatives," said Maria Burks, commissioner of the National Parks of New York Harbor. "I'm sure he will remain a champion of environmental issues and causes throughout his lifetime."
Sullivan began his NPS career at Edison National Historic Site before transferring for his first tour of duty at Gateway NRA in 1978. He spent the next 26 years at parks throughout the country, including Theodore Roosevelt National Park, Blue Ridge Parkway, Delaware Water Gap National Recreation Area, and Fire Island National Seashore.
Sullivan received numerous awards for his achievements in park management, resources stewardship, and developing outstanding community relations. In 2009 he received the National Park Service's Northeast Regional Award for Superintendent of the Year in Natural Resource Stewardship.
Sullivan's retirement is effective July 31st. Linda Canzanelli, Northeast Region's Associate Regional Director for Park Operations, will serve a 120-day detail as the acting superintendent beginning in mid-July. A vacancy announcement for a permanent replacement will be advertised later this year.
Last updated: March 10, 2017