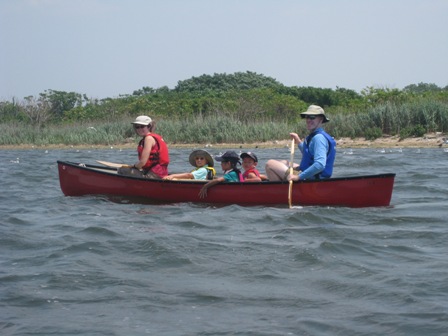 News Release Date:
July 7, 2010
Contact: Jennifer Wolff, 718-354-4608
Experience the beauty of Jamaica Bay by canoe or kayak. The Sebago Canoe Club is sponsoring an "All Club Invitational" day of exploration on the waters of Jamaica Bay.
The event takes place Saturday, July 17, 10 AM to 5 PM (rain or shine) at the Sebago Canoe Club, 1400 Paerdegat Avenue in Brooklyn. It is a celebration of human-powered boaters with guided trips available to learn about the 16,000 acres of islands, salt marshes, beaches and wildlife diversity within Jamaica Bay.
Boaters have the option to explore the bay on their own or join the many guided trips into the bay escorted by a Sebago member. Information on landing sites and the harbor estuary system will be provided by partner organizations. The event is FREE and the Sebago Club will provide food and drink all day long for all that want to participate. Water and snacks should be brought when boating on the water.
Reservations are not required but individuals should contact the club immediately in order to plan for the appropriate amount of parking, food and drink. Boats are not available and will not be loaned. Plan accordingly.
Visit the Sebago Canoe Club website for directions and other information.