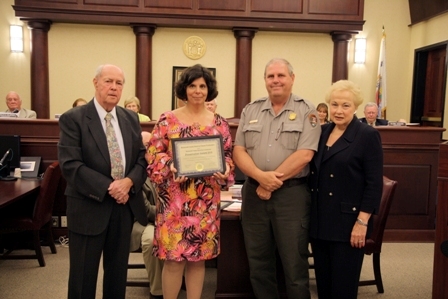 News Release Date:
June 22, 2010
Contact: Jennifer Wolff, 718-354-4608
New Jersey Marine Sciences Consortium/New Jersey Sea Grant (NJMSC/NJSG) has received a 2010 Monmouth County Historical Commission Historic Preservation Award in recognition of its efforts and accomplishments to restore and preserve Barracks Building #22 at Sandy Hook, which has served as the organization's headquarters since 1972. 
The restoration of Barracks Building #22, built in 1899, is the first project of its kind within Fort Hancock on Sandy Hook. The project is viewed by the National Park Service, which includes Sandy Hook, Gateway National Recreation Area, as a model for the future rehabilitation of similar Fort Hancock structures. The project was also designed to serve as an incentive for other groups to follow the lead of the NJMSC/NJSG so other historic structures at Fort Hancock can be similarly restored and saved.
NJMSC/NJSG Executive Director Claire Antonucci and Pete McCarthy, Unit Coordinator for Sandy Hook, Gateway NRA, attended a special presentation in Freehold on June 7th to accept the award from Robert Schoeffling, Commissioner of the Monmouth County Historical Commission . Freeholder Director Lillian G. Burry, who serves as liaison to the County Historical Commission, presided over the ceremony which recognized a total of 8 outstanding historic structures throughout the county. "Residents, business people and other organizations who do the work to preserve local structures and buildings deserve public praise and recognition," noted Freeholder Burry.           
"We are truly grateful for this recognition", said Claire Antonucci in accepting the award. "It is the culmination of nearly ten years of effort to restore the building that has served us so well to its rightful place in Monmouth County history. It is our sincere hope that our project, and all that we learned about our building, will inspire others to restore Fort Hancock's other structures to their original grandeur."
The NJMSC/NJSG Building #22 Project was nominated for the award by Beth Woolley of Deal, a Trustee of the Long Branch Historical Association and local historical aficionado. Ms. Woolley is also the daughter of Fort Hancock's last Post Tailor (Bernard Duze) who lived on Post from 1919-1944 and ran the Post Tailor Shop after his father's retirement in the early 1950s. Because her father and all his siblings grew up on the Fort Hancock Post, Woolley has a particular interest in the preservation and restoration of the Fort Hancock District.
Capital funding for this project, which was completed in late May, was provided by the New Jersey Historic Trust and required equal matching funds from NJMSC/NJSG. The organization is planning a special ribbon-cutting event to showcase the unique restoration effort in the late summer/early fall.
NJMSC/NJ Sea Grant is an affiliation of colleges, universities and other groups dedicated to   advancing knowledge and stewardship of New Jersey's marine and coastal environment. It meets its mission through its innovative research, education and outreach programs. For information about the NJMSC/NJSG and its activities and resource products, or the upcoming restoration special event visit njmsc.org