Sandy Hook Unit Permits
Sandy Hook Unit
Permits and Reservations
Sandy Hook issues permits for activities listed below. Additional permits from other agencies may be required for some activities. Permits and/or reservations are required for fishing, ceremonies, camping, after hours park access, special events, filming and photography.
Fact Sheet- After Hour and Ceremony Permits
Why Do I Need A Permit?
All National Park Service units require permits for certain activities in order to monitor and regulate the use of the park while conserving the scenery, natural and historic objects. By signing, the permittee agrees to the terms and conditions and establishes a written record. Gateway accommodates requests for permits when possible. However, primary consideration of all park use is given to preservation of its resources and to normal public use.

When Do I Need A Permit?
After Hour Permits are needed year-round 9 pm to 6 am.
Ceremony Permits are needed year-round during normal park hours (6 am to 9 pm)
There are additional requirements during peak season (May-September during normal park hours)
No ceremony permits are permitted on Saturdays in July and August.
Permits and participants may not arrive before 4:30 p.m. and activity may not begin before 5 p.m.
All visitors are subject to parking fees before 5 p.m.
All permits are subject to park closures.
Where Do I Need A Permit
Ceremonies can be held in:

North Beach: Located about seven miles north of the park entrance and is located north of Gunnison Beach. Guests are to park in Lot I or J.
Delta Beach: Located about one mile north of the park entrance. Guests are to park on the north side of D lot.

After hour permits can be used at on both the bay and ocean sides of Beaches B and C, Beach Lots D, E, F, I, J, and K. Please see map below for details.
How Do I Get A Permit?
All permit applications take up to 10 business days to process once application and permit fee has been received.
There is a $50 application fee for all permits. Additional cost recovery fees may apply.

1. Permits are processed online through pay.gov. Please see directions below.

Online Application
Fill out application and submit payment online through pay.gov.
An application and receipt will be sent directly to the Permit Office.
2. The park considers the request and determines if it is an appropriate activity. This can take up to 10 business days.

3. Park will approve request and issue permit as long as activity does not conflict with park programs or previously approved uses.
Rules, Regulations, and Requirements:
Ceremonies are limited to 100 people.
NPS cannot guarantee entry once capacity is reached and parking fees cannot be waived. (Parking fees are charged Memorial Day weekend-Labor Day, 7 am to 5 pm).

Prohibited Items and Activities
Use and distribution of birdseed, rice, bubbles/machines, balloons, banners, and glass is prohibited.
Bringing or releasing doves, birds, butterflies, or other animals is prohibited.
Tents, arbors, altars, or other temporary structures are prohibited.
Mobi mats may not be used for ceremonial activity. Mobi mats are available and used for public access only; they may not be used as a walking aisle for ceremonies.
Any activity on sand dunes is prohibited.
Consumption of alcohol is prohibited.
Beach Plazas are not availalbe for use in connection with any ceremonial permit.
Generator use is prohibited.
Live non-native plants are prohibited.
No alterations to park grounds or facilities is permitted.
Permit does not permit access into closed areas. Shore bird nesting closures are enforced between March 15 and September 15.
Restricted Uses

Ceremony Permits
A maximum of 10 chairs may be used for elderly and handicapped guests with written request and approval.
Audio, video, or other sound generating devices, including instruments, are permitted but may not be so loud as to be heard at a distance of more than 50 feet from the perimeter of area designated for the event.
All plants and flowers require written advance approval. Plants and/or flowers must be removed from the park upon conclusion of the permitted event to avoid introduction of non-native species.
After Hours Permits
Pets must be leashed at all times and waste removed.
Pets are not permitted on oceanside beaches from March 15 - September 15 due to nesting birds.
Requirements

Ceremony Permit
Permitee may be required to carry insurance with a minimum general liability limit of $1 million per occurrence and $3 million aggregate. Permitee must provide a certificate of insurance naming the United States of America as additionally insured.
Consult the permit conditions for full insurance requirement and sample insurance certificates.
After Hours Permits
One permit is good for up to five individuals. All names and addresses must be included on the permit.
Equipment and supplies associated with the activity such as telescopes for star gazing are permitted but must be approved in advance.
All participants associated with permit must be actively participating in permitted activity. NO camping, fires, or sleeping on beaches is allowed.
Additional Information
Marriage License:
Sandy Hook is located in Middletown Township, even though our address says Highlands, NJ.
Marriage licenses must be obtained at Middletown City Hall, 1 Kings Hwy, Middletown, NJ
(732) 615-2000

Park Hours
6 am to 9 pm
Contact Us:
Sandy Hook Permit Office
26 Hudson Rd, Fort Hancock, NJ 07732
(732) 872-5862
E-mail: Gate_SAHOspecialparkuses@nps.gov
Emergency Contact:
Sandy Hook Park Dispatch (732) 872-5900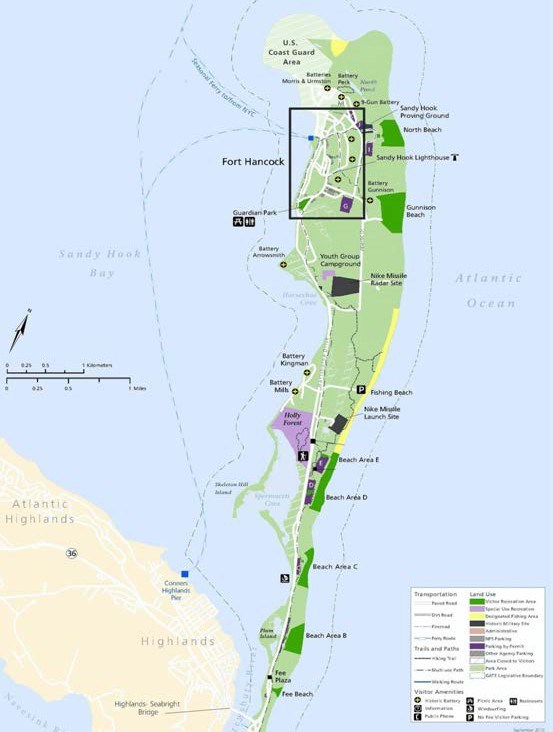 Last updated: July 20, 2022