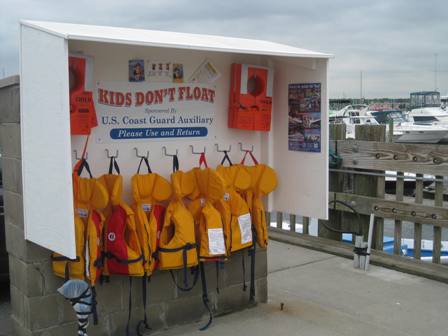 News Release Date:
July 13, 2010
Contact: Sherry Kisver, Division Commander, 1SR, Division 14, USCG Auxiliary, 718-948-5691
Kids don't float, but if the United States Coast Guard Auxiliary has its way, they will.
A lifejacket station will allow families to borrow child-size lifejackets free of charge at Nichols Marina, located in Great Kills Park, part of Gateway National Recreation Area. A ceremony will launch the new initiative on Thursday, July 15, beginning at 9:30 AM. Local dignitaries, members of the Coast Guard Auxiliary, and Active Duty Coast Guard representatives will join the boating public for this event.
For many years the U.S. Coast Guard and the U.S. Coast Guard Auxiliary have been educating the public on the importance of all boaters using lifejackets, most especially children. It is the law in the states of New York and New Jersey that children 12 years of age and younger must wear a lifejacket at all times while underway on the deck of any boat.
However, preaching the obvious and getting results are two different things. Ten years ago in Homer, Alaska, a group called "Safe Kids USA" worked with the Coast Guard Auxiliary to establish a program of installing lifejacket loaner stations at local marinas.
The concept is simple; they erected a rack on the waterfront and hung child size lifejackets on hooks. Boaters with children heading out on the water who did not have lifejackets could simply borrow one from the rack. Upon returning, families would return the the lifejacket to its hook ready for use by the next child.
The program was so successful that there are now 400 such sites across Alaska and the program has spread across the nation. Division 14 of District 1SR of the Coast Guard Auxiliary based in Staten Island, New York, is instituting the KIDS DON'T FLOAT program here. It will be the second one in place on the Island. The first is at Tottenville Marina on Ellis Street.
The program will begin with six lifejackets available in children's sizes. It is hoped that the supply of jackets will grow through donations of local businesses and individuals. Experience at other lifejacket stations shows that the jackets tend not to disappear, despite having them available without a deposit. In many cases, the supply actually tends to grow.
Nothing is more important to most of us than the safety of our children especially when they are engaged in as stimulating and satisfying an experience as boating.
Please join us at 9:30 AM on Thursday, July 15 at Nichols Marina in Great Kills Park to celebrate the opening of this lifejacket station.