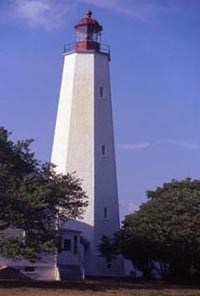 Beaches are only the beginning (3:34)
Sandy Hook's beaches attract over two million people a year. But did you know about its bird habitat, salt marsh and the largest holly forest on the east coast?
Windows Media Quicktime Apple TV Transcript
Disappearing guns and nuclear missiles (4:28)
Fort Hancock on Sandy Hook defended New York Harbor using cutting-edge weaponry.
Windows Media Quicktime Apple TV Transcript
Life at an Army fort (3:09)
Sandy Hook has the oldest standing lighthouse in the U.S. But many of Fort Hancock's military structures are just as significant. Photos: NPS, Sandy Hook Archives.
Windows Media Quicktime Apple TV Transcript
---