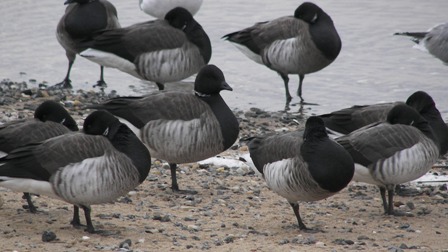 News Release Date:
January 20, 2011
Contact: Jennifer Wolff, 718-338-4306
Jamaica Bay is "the hotspot" for winter birds. Join naturalist Ron Bourque to look for waterfowl and songbirds at Jamaica Bay Wildlife Refuge's West Pond.
Finding birds in the field is much easier in the winter season. Since there is less foliage, birds are more visible while they forage. Don't be surprised to find different finches, songbirds, waterfowl and other birds that typically stay in northern climates. 
Jamaica Bay Wildlife Refuge is ideal for viewing ducks, geese, gulls and shorebirds because the large open waterway attracts birds that rely on aquatic plants and animals in the marsh and pond habitat areas.
Remember to dress in layers and bring binoculars.