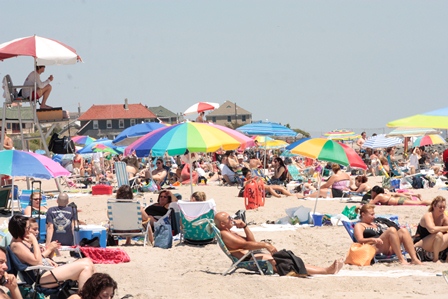 News Release Date:
May 23, 2013
Contact: Daphne Yun, 718-354-4602
 On Saturday, May 25, Gateway National Recreation Area will open all of its lifeguarded beaches to the public for the first time since Hurricane Sandy.  "We are very happy to report that all of the park's lifeguarded beaches will open this Memorial Day weekend," said Linda Canzanelli, superintendent of Gateway National Recreation Area.  "We invite everyone to shake off the Hurricane Sandy blues and come out to swim, bike, kayak or just relax at the water's edge."
All of the beaches will be open at the Sandy Hook Unit, NJ, and all beach centers will be open with full restrooms.  Daily Seastreak ferry service resumes this weekend.  Beach parking costs $15 per day, or $75 per season.  The front gate will open at 7 a.m. for purchase of the beach parking passes.
Great Kills beach in the Staten Island Unit, NY will offer expanded kayaking programs, with guided kayaking tours of the Lower New York Bay on a walk up basis from 8:30 to 5 p.m.  We will also be offering introductory kayak lessons and water safety instruction at 10 a.m.  All programs are available Wednesday through Sunday.
Jamaica Bay Unit's Riis beach, NY, will have the entire beach open, although the beach at Fort Tilden remains closed this summer.  Bathrooms will be open in Bays 3, 5 and 9 and the main parking lot will be open.  Bike rentals will also be available for the first time this year.  Beach parking costs $10 per day, $65 per season.  The parking lot will be open at 7 a.m.
Lifeguards are on duty from 10 a.m to 6 p.m. at all units.  Please stay safe and swim during these times.  We look forward to seeing you at our beaches this summer!
About Gateway National Recreation Area
Established in 1972, Gateway National Recreation Area offers more than 26,000 acres of marshes, wildlife sanctuaries and recreational athletic facilities, miles of sandy beaches; indoor and outdoor classrooms; picnicking and camping areas, as well as historic structures and military installations, airfields, a lighthouse, and adjacent waters around New York harbor.  The park offers urban residents in two states a wide range of recreational opportunities year round.  Gateway is one of the ten most visited national parks in the country.  For more information about Gateway's upcoming public programs, see the park's Web site at www.nps.gov/gate/index.htm.  To join the conversation about Gateway, like us on our Facebook page at www.facebook.com/Gatewaynps.