Teacher to Ranger to Teacher Brings Students Camping at National Park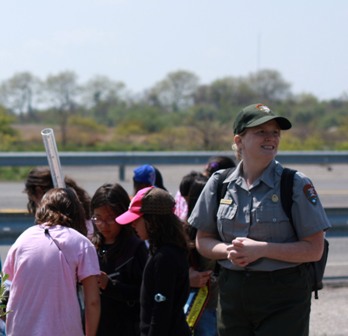 News Release Date:
April 30, 2010
On April 22-23, as part of a celebration of National Park Week the Teacher to Ranger to Teacher Renay Moran-Kurklen camped out at the Ecology Village Campgrounds, Gateway NRA for the first time with her 4th grade students from the Renaissance School, Charter School #705. The students stepped off the yellow school bus bright eyed and bushy tailed, excited to experience a camping trip with a full agenda that included marine explorations, campfire with smores and ghost stories, and sleeping in tents under the Brooklyn night sky.
The National Park Service strives to provide opportunities for all Americans to connect to their national heritage through national parks. The Teacher to Ranger to Teacher (TRT) Program offers a solution by linking National Park units with teachers from predominantly Title 1(at least 30% of students on free or reduced cost meals) school districts. Under TRT, selected teachers spend the summer working as park rangers. They perform various duties depending on their interests and the needs of the park, including developing and presenting interpretive programs for the general public, staffing the visitor center desk, developing curriculum-based materials for the park, or taking on special projects.
Moran-Kurklen spent the summer of 2009 working at Jamaica Bay Wildlife Refuge as park ranger. As part of the TRT program, she wore her NPS ranger uniform to school during National Park Week in April 2010. This was the perfect opportunity for her to share her summer experience as a national park ranger with her students and other teachers to discuss America's national parks. Throughout the school year, her lesson plans incorporated concepts of conservation and preservation that are at the core of the NPS mission.
As an added bonus, Moran-Kurklen brought her students to Gateway NRA for a camping experience. The day's activities included an orientation slide show, cooperative team-building games, and a beach program investigating water quality and marine life. The program would have included a seining element but the thunder and rain prevented that from happening. Rather than hampering the experience, the rain actually made for some excitement and energized the children. The students safely waited out the rain indoors then returned to their campsites for the night.
Moran-Kurklen awoke the next morning deprived of sleep, but still enthusiastic and excited about the morning agenda. During the trip students separated their recycling, garbage and compost throughout the visit. The ranger weighed the three components and graphed the results so the children could visually conceptualize the amount of waste produced over a 24-hour time period.  The overall objective of the activity was to promote resource conservation and adopt alternate practices that minimize solid waste in the environment.
"The class is psyched to come back to the park in a few weeks to learn about the various habitats within the Jamaica Bay Wildlife Refuge," said TRT Moran-Kurklen. "The highlight of their national park experience was the time-honored tradition of enjoying a campfire as they roasted marshmallows with their friends."
There are 22 parks involved in the TRT 2010 Program. For more information go to https://www.nps.gov/learn/trt/
Last updated: February 26, 2015