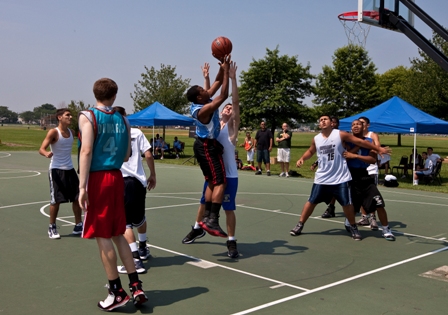 News Release Date:
July 28, 2009
Contact: Brian Feeney, 718-354-4606
Jamaica Bay Programs

In the Air, In a Tree and On the Ground - the Birds!
Jamaica Bay Wildlife Refuge
Sunday, August 2
1 p.m. – 2:30 p.m.
It's all about the birds for children four years and up, accompanied by an adult. Listen to a bird story, make a birdhouse, and take a bird-oriented nature walk. Bring binoculars, insect and sun protection. Reservations required.
Fireworks Cruise
Starting Friday, June 19
For 8 consecutive weeks at 8:00 p.m.
$15.00 per person
Weekly cruises depart from Riis Landing. Enjoy the evening beauty of New York City's national park and the excitement of the fireworks show from Coney Island. Return schedule depends on the length of the Brooklyn Cyclone games. No alcohol permitted. For more information call (718) 474 – 0555.
Rockaway Theater Company: Next Production Starts August 14!
The Rockaway Theater Company presents a selection of musicals, comedies and dramas at Fort Tilden's historic Post Theater. For additional information, including audition dates or to purchase tickets call (718) 850 – 2450.
Come Back to the Five and Dime – Jimmy Dean,
Jimmy Dean!
August 14, 15, 21, 22, 28 & 29at 8 p.m.
Matinees – August 16, 23 & 30at 3 p.m.
Sandy Hook Programs
25th Anniversary of the All Women's Lifeguard Tournament
Wednesday, July 29
See 200 women compete at the 25th Anniversary of the lifeguard competition.
Tournament site: Beach Area E Competition starts at 8:30 a.m. and concludes at 1:45 p.m.
Awards ceremony: 2 p.m.
Seining the Marsh
Monday, Wednesday and Friday
9:30-11:30 a.m.
(Call the Sandy Hook Visitor Center for location or look for the "seining today" signs along Hartshorne Drive.) Participate in this hands-on activity that explores the creatures in the bay. Please wear footwear you can get wet. 
Sandy Hook Lighthouse
Sandy Hook Lighthouse
Building 84, Weekdays, 1 p.m. to 4:30 p.m. Weekends, noon to 4:30 p.m.
The Keepers Quarters has exhibits on N.J. Lighthouses. Tours are first-come, first-served. Must be 48" tall to climb. Phone: 732-872-5970
History House
History House
Building 1, 1 p.m. to 5 p.m.
This lieutenant's quarters on Officers Row overlooks Sandy Hook Bay. It's now restored and furnished to represent the 1940s, the peak years of Fort Hancock operations. Come and learn how to use a typewriter, tend a Victory Garden or possibly learn how to cook '40s syle with a living historian. Phone: 732-872-5946.
Staten Island Programs
Bug Bingo: Bugs and Their Antics
Fort Wadsworth Visitor Center
Thursday, July 30 at 1 p.m.
Family program includes a 30 minute video in our theater and then a ranger will lead the group in Bug Bingo. Reservations required.
Hoop It Up 5-on-5
Basketball Tournament
Miller Field Ranger Station
Saturday, August 1 at 10 a.m.
Registration is completed, but visitors can come and watch boys and girls can 'hoop it up' at National Park Service courts for a 5-on-5 single elimination basketball tournament. Prizes will be awarded.